Yaesu FT-897
The Yaesu FT-897D is a multiband transceiver all mode and multi-application, ie; use based, mobile and even portable with optional internal battery FNB-78. This versatile equipment like his "little brother" FT-817ND, allows us to enjoy our hobby anywhere, even has a handle for easy carrying either on our radio room, in the car and even in expeditions and competitions where energy use can be limited. The great strength that has been designed provides the security that will not fail in situations with weather, terrain or extreme circumstance.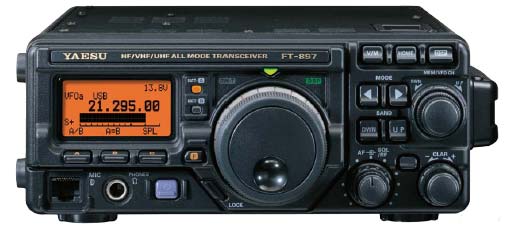 By far the most important feature of the Yaesu FT-897D is its "portability" inside we can accommodate, optionally, up to 2 battery FNB-78 or if we use it in base mode, the power supply FP-30. Thanks to the FNB-78, the team transmitted autonomously (without external power) with a power up to 20W for HF, UHF 10W for 8 hours with a consumption cycle TX5% STANDBY RX5% and 90%.

The concept of portability is completed by the optional use of the ATAS-120 antenna with automatic coupler included or the ATAS-25 manual engagement.

In addition the small FT-897D is large enough to use as a base station supplementing it with the full range of optional accessories like YAESU; desktop microphone MD-100/200 antenna coupler FC-30, various filters COLLINS, power supply etc. FP-30

In fixed or mobile feeding use with FP-30 or with an external source of 13, 5VDC, the device provides 100W output with its powerful end step

As the receiver is perfectly designed with high-end details.; as mixers balaceados GaAs transistor technology, RF control, adjustable input attenuator and selectable AGC in 3 levels, the careful design of direct digital synthesizer DDS with a signal / noise ratio extraordinary provides a clean signal without providing thus a spurious clear reception in difficult conditions finally can optionally include the prestigious Collins mechanical filters YF-122x, which will give us even better protection against interference in the reception of signals difficult.
Kit Contents
Issuer HF Yaesu FT -897
Handheld Microphone
Power Cables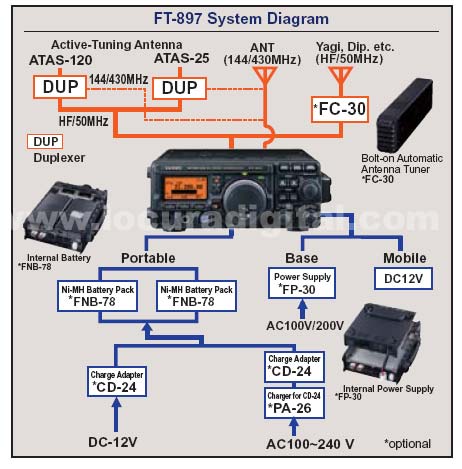 Features
Sturdy construction ideal for housing operations and uses aluminum in adverse conditions.
Optional internal power supply or battery NI -MH.
Large multi color LCD display (Dot-Matrix).
alpha numeric memory channels 200.
Compatible ATAS-120/100.
Available with external automatic antenna FC-30.
Signal Processor digital.
Compatible ATAS-120/100.
IF Shift Control.
IPO (Intercept Point Optimization).
IF Noise Blanker.
Selector AGC (Auto / Fast / Slow / Off.)
IF Shift Control.
Optional mechanical SSB filter Collins® 2.3 kHz.
IPO (Intecept Point Optimization).
IF Noise Blanker.
Selector AGC (Auto/ Fast/ Slow/ Off).
Special features for CW operators.
3 reminder messages.
Collins® optional 12-pin 500 Hz mechanical filter.
Function CW training.

Características especiales para operadores CW.

3 memorias de mensajes.
Special features for VHF operators / UHF.
Función entrenamiento CW.
ARS. (Automatic Repeater Shift).
CTCSS / DCS.
ARTS (Auto-Range Transponder System).
.
Smart Search% u2122 (Automatic Memory Loading System).
.

Spectrum Scope.

Transverter Jack.
Automatic Beacon Mode.
CTCSS/DCS.
ARTS.(Auto-Range Transponder System).
Smart Search%u2122.(Automatic Memory Loading System).
Spectrum Scope.
Transverter Jack.
Automatic Beacon Mode.