ALAN 100 PLUS B
CB 27 Mhz transceiver. AM / FM. ALAN 100 PLUS B
This kit consists on the radio Alan 100 Plus B (new model) and the magnetic base Antenna Midland 18-244m. Ideal for people who need a communication without fixed installation. In less than two minutes you will have your station assembled and ready to transmit and receive.
New ALAN 100 PLUS B features the essentials for a good communication: handy volume controls and the silencer that help for optimum reception, while for improving the audio a new condenser microphone with 4 pin connector has been studied and also a new design that make it more ergonomic.
And more than this, Alan has also incorporated the cigarette-lighter connector, so providing power in your vehicle will be fast and efficient, making easy the assembly and disassembly of this station.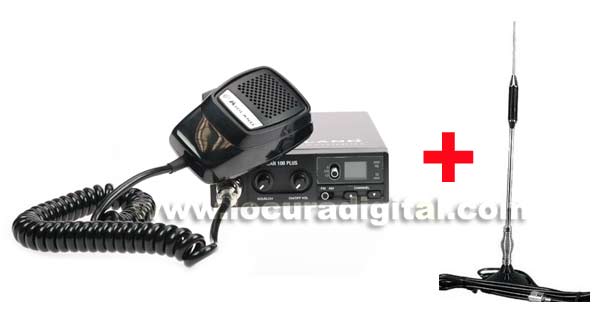 MIDLAND Antenna 18-244m
Half-wave antenna with magnetic base and stainless steel spring. With 3 meter cable RG 58 + PL connector.
- Mobile CB Antenna 27 Mhz.
- Radiant stainless steel.
- Central coil.
- Stainless steel spring.
- Magnetic Base + 3 mts. RG58.
- PL259 RG58 final.
- Impedance 50 Ohm.
- Frequency 26-28 Mhz.
- Polarization vertical.
- VSWR <1.2:1.
- Max. power 50 W.
- Length 630 mm
- Weight 575 Gr
Kit contents
1 ALAN 100 PLUS B
1 MIDLAND Antenna 18-244m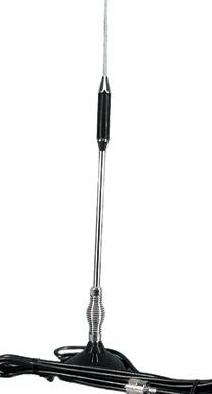 Features
Direct access to channels 9 and 19
Channel Indicator Display
Selectors UP / DOWN in front
Volume Control
Squelch Control
LED Tx indicator
External speaker connector
4-pin microphone connector
SO239 antenna connector
Cigarette-lighter connector
Channels: 40 AM/FM
Frequencies: 26.965 - 27.405 MHz
Voltage: 13.8 V
Dimensions: 180 x 125 x 38 mm
Weight: 950g