YAESU FT-817ND
The world's first self-contained, battery-powered, Multi-mode Portable Transceiver covering the HF, VHF, and UHF bands! With 5 watts of power, is designed to operate on HF bands from 160-10 meters, plus 6 meters bands, 144 MHz and 430 MHz. And you can operate on SSB, CW or FM too.
For more than four decades, Yaesu has been a world leader in the design and manufacture of high-performance multi-mode base station and mobile transceivers, as well as FM handhelds.Yaesu broke new ground with the introduction of the FT-817: the world's first HF/VHF/UHF self-contained battery-powered Multi-mode Portable Transceiver. Providing up to five watts of power output, the FT-817 is designed for operation on the 160-10 meter HF bands, plus the 6 meter, 2 meter, and 70 cm bands. Whether your preferred operating mode is SSB, CW, AM, FM, Packet, or SSB-based Digital modes like PSK31, the FT-817 is ready to join you on your next hiking, camping, or search-and-rescue adventure!
Now the 817 legacy is even better with the introduction of the FT-817ND, which includes coverage of the U.S. 60-meter (5 MHz) band, and it also includes a 1400 mAh NiMH Battery pack (FNB-85) and NC-72B Charger!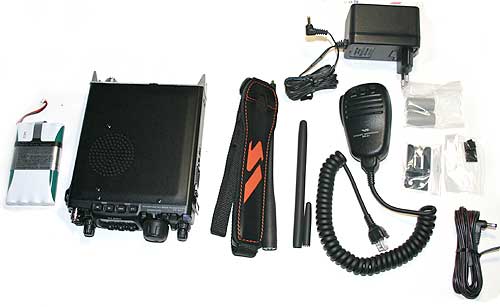 Features
RX Range: 110-30 MHz / 1950-1954 MHz / 76-108 MHz (W-FM only) / 87.5-108 MHz (EU) / 108-154 MHz (USA) / 144-148 (146) MHz (other markets) / 430 (420) -450 (440) MHz
TX Range: 160-6 m. 2 m / 70 cm (Amateur bands only). 5.1675 MHz (emergency channel Alasca USA Version).
Ultra compact (135 x 38 x 165 mm).
Multimode design: SSB, CW, AM, FM, FM-Wide (RX), 1200/9600 bps packet, Digital (including PSK-31U and PSK-31L).
Power Output: 5 Watts (0.5 / 1.0 / 2.5 / 5 W selection).
Selectable Output power: AA battery included, optional FNB-72 Ni-Cd Battery Pack (9.6 V, 1000 mAh) External DC cable included for 13.8 V operation.
Two antenna ports: BCN in front panel, UHF (Type "M") in rear panel, should be allocated via menu in HF, 50, 144, 430 MHz
Integrated Electronic CW Keyer, Paddle Normal / Reverse connections, Adjustable CW Pitch, Normal / Reverse sideband.
Integrated CTCSS and DCS coded / decoded circuits.
208 memory channels, including 200 "regular" memories assignable in groups of ten memories, each memory must be attached to an alpha-numeric label.
LCD display with double color: blue or amber selection.
Recording of the five frequency channels above and below while we are absents from the station.
Optional Collins ® Mechanical Filter: 10-pole YF-122S (2.3 kHz) for SSB, 7-pole YF-122C (500 Hz) for CW.