! GIFT PINGANILLO!
ICOM IC-E90 KIT To Walkie triband VHF/UHF +! GIFT PINGANILLO!
50 frequencies mhz, 144 mhz y 430 mhz
- Power 5 watts.
- Subtonos DTCS and CTCSS in TX/RX.
- illuminated Keyboard.
- 555 channels of memory.
- Lithium Battery of 1,300 mAh.
- the frequency in Morse code Indicates.
- Passage of tuner: 5/6.25/8.33/9/10/12.5/15/20/25/30/50/100/200 Khz.
- Incluye PINGANILLO

receiving Incluye of generalcover of 0.5 to 1000 MHz. Slight and compact size with resistant aluminum chassis to impacts. 555 alphanumeric channels of memory
The PMR of free use in 6.25 can also be received passages of khz. Motorola. Yaesu, Alan, Cobra, Kenwood, icom, etc.. and Aviation in 8.33 step Khz. A.M.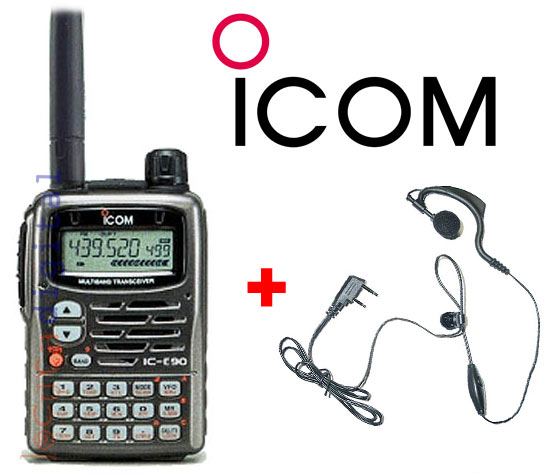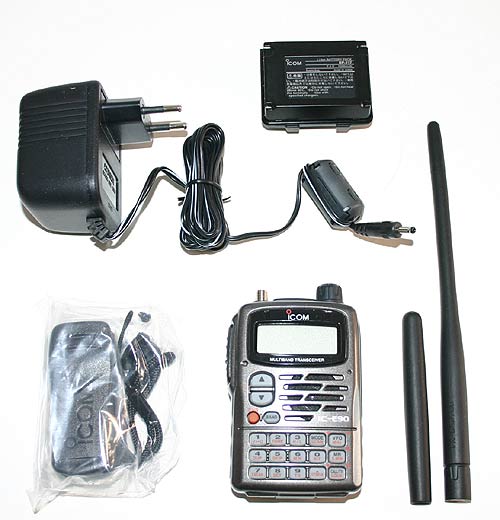 Cover of frequencies:
Tx:
Spain: 144-146 MHz, 430- 440 MHz
Rx:
50-50.2, 1445-146, 430-440
Ways: FM, WFM *, A.M. * (only reception)
Number of memory channels: 555
Connector of antenna: 50 Ohm SMA
Rank of temperature: -10°C to +60°C
Stability of frequency: ±6ppm (%u201320°C to +60°C)
Required feeding: 5.5V - 11V DC
Consumo(a 8V DC):
Tx: 2.20(max.)
Rx:
220mA/65mA (max. AF/ahorro of energy)
Passages of syntony: 5, 6,25, 8,33, 9, 10, 12,5,15, 20, 25, 30, 50, 100, 200
Dimensions (projections nonincluídas): 58(L) x 87(A) x 29(P) mm
Weight (with antenna and BP-217): 280 gr.
Power output: 5W/ 0.5W (high /low)
System of modulation: Variable reactance
Espúreas emissions: > - 60 dBm
Frequency deviation Maxima: ±5.0KHz
Connector of microphone: 3 contacts 2,5 /2 mm kOhm
System of reception: Double superheterodyne conversion
Intermediate frequencies:
1a: 69.45MHz (FM/AM); 13.35 (WFM)
à: 450KHz
Sensitivity:
FM: of 0.16µV to 1.0µV
WFM: of 1.0µV to 3.2µV
A.M.: of 0.5µV to 1.3µV
Selectivity: > 15 kHz to -9dB, <30 kHz at -60dB
Espúreo rejection:
50 MHz: > 60dB
144 MHz: > 60dB
440 MHz: > 50dB
Power output of audio: 200 mW with 8 Ohm
Connector of external loudspeaker: 2 contacts 3,5 /8 mm Ohm