POWER INVERTER WHS60012
WHS 600 12. CURRENT INVERTER 12 V. to 220 V. POWER 600 WATIOS.

Inverter with a soft built-in start from 12 direct volts at 230 volts / 50 Hz alternating voltage. It gives you 220 volts of electricity anywhere. Compatible with solar generator. Easy to install Numerous protection functions. Input of 10-15 volt and output of 230 (+/- 5%). 50 Hz frequency output. Permanent power output of 600 watts, max.1450. Battery warning. protected against high temperatures and overloads. dimensions: 208 x 205 x 76 mm% u2022 weight: approx. 2100 g% u2022 silver color
Note: The image, the cable comes out with clips and really the cable does not have clips.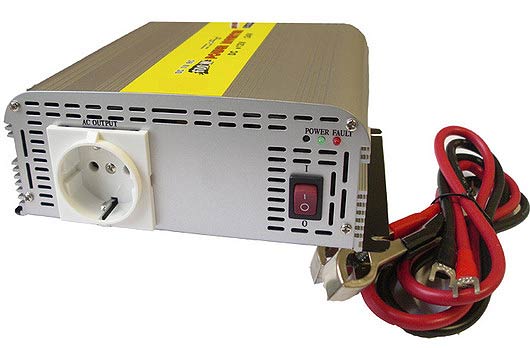 Contents of the kit
Inverter from 600 to 12v
Connection cable