LOWRANCE LINK-5
LOWRANCE Link-5 DSC Marine VHF radio system 156.025-163.275 MHz, Class D compliant with dedicated DSC transceiver
The Link-5 marine VHF system is compact and affordable with an ultra-rugged waterproof (IPX7) chassis. Meeting the latest international compliance standards, the Link-5 delivers the ultimate reliability and performance, for unparalleled safety and communication on-the-water, anywhere in the world.
Safety is always a concern; Lowrance designed the Link-5 for clear and simple Class D DSC operation. Link-5 features an efficient, extra-large rotary knob interface for easy channel changing, menu navigation and setting control. Clear display of GPS lat/lon data is presented on a 1 x 1.8 in (2.6 x 4.6 cm) LCD display with adjustable backlighting. Delivering all USA, Canadian and International marine channels, the system provides easy access to all DSC functions. The Lowrance Link-5 features an extra large Channel 16 key, dedicated volume and squelch knobs, weather keys, selectable Dual and TriWatch modes, local and distant functions, and three user-programmable ("favorites") channels.
Equipped with memory retention, the radio logs up to 10 distress calls and 20 individual DSC calls. DSC control keys include (priority) 16/9, WX, 3CH/ /- for quick channel changing, CALL, EXIT, SCAN and MENU. Additional system features include a rotary volume control with power on/off, all-channel priority and memory channel scans, 20 user-programmable names with MMSI, 10 weather channels with a 1050 Hz tone alert and a second receiver for incoming DSC messages on Channel 70.
Offering selectable 25/1-watt transmit power and NMEA 0183 compatibility, the Link-5 includes a flush-mount kit, wires for 4-watt external speakers, a PL259 connection for optional 2.4 m and 1 m fiberglass antennas. Stainless-steel and nylon antenna mounts are available from Lowrance, too.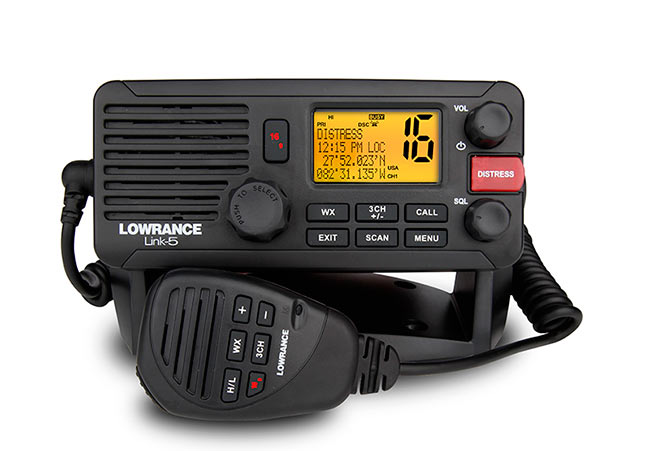 Kit Contents
1 LOWRANCE LINK-5 Radio
1 Hand Microphone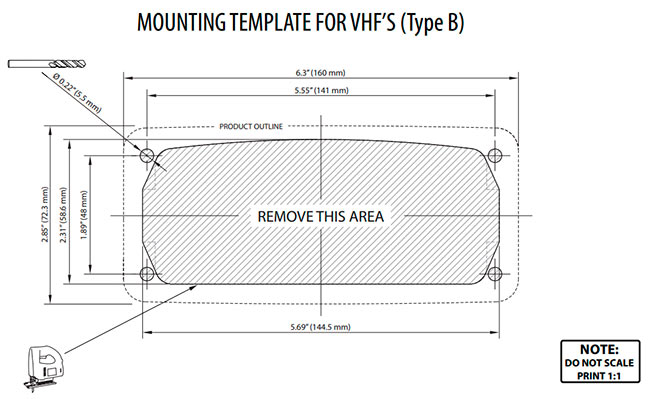 Class D compliant with dedicated DSC transceiver
Selectable 25 watts transmit power / 1 watt low power mode
Highest quality easy grip rubber fist microphone with speaker
XL Channel 16/9 key and rotary knob
Quick "favorites" channel access
Dedicated volume and Squelch knob
5-year Advantage Program