| | |
| --- | --- |
| | DESCRIPTION of the PRODUCT |

ref: 1495001110
1495-001-110 Suitcase resistant to conditions extreme, Black without foam PARA INFORMATICA
Resistant watertight to the water and to the dust, resistant to substances chemical and to the corrosion. With almost 16 L of capacity of storage usable besides protect laptops from even 17 inches the 1495 allows carry every kind of accessories as power cords, drives digital and other teams electronic. The suitcase 1495 takes built-in a padlock with combination programmable and strengthening stops padlocks in steel stainless to avoid any theft.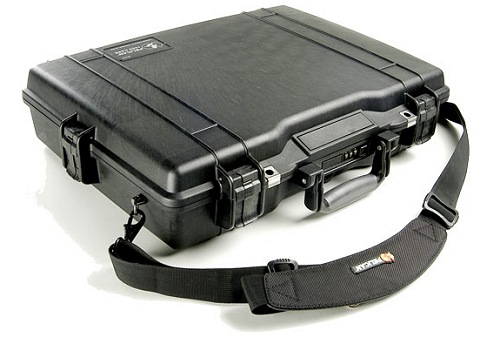 * Not includes strap
ENVIRONMENT OF TEMPERATURES
MINIMUM

-23ºC

MAXIM

+93ºC

SIZES
INSIDES

47,9 cm x 33,3 cm x 9,7 cm

OUTSIDES

54,9 cm x 43,8 cm x 12,4 cm

DEPTH COVERS

DEPTH SUITCASE
FLOATING
Fleet in water salted with a load of 20.48 kg.
WEIGHT
Without foam: 3,28 kg
With foam: 3,80 Kg
ACCESSORIES
#1483 - Ring of sealing of supply
#1495 ALI - Organizer cover
#1472 - Strap
HOMOLOGATIONS
- IP67 (Ingress Protection, index 67.) Refers to the protection against particles solid (first figure) and liquid (second figure.) Aspues 6 means resistant to the dust (being 6 the index maximum) and 7 to the immersion (being the 8 the index maximum that tallies to immersion undefined.)