| | |
| --- | --- |
| | DESCRIPTION OF THE PRODUCT |

ref: 1490008110
1490 008 110 Suitcase of Black, standard protection
For Like all the protective suitcases equipment of Peli, the new briefcase for laptop 1490 is watertight to to air, to water and the dust, non-malleable and on approval of corrosion. The briefcase 1490 of flake resin files to dealer resistant extremeoutpost to the impacts, protects valuable tools ace laptops of any blowduring its transfer and the atmospheric conditions. The Deluxe model (1490CC1) includes an to organizer quilted for to cover and to trayabsorb-blows, safety paper clip with velcro, quilted detachable strap for to shoulder, closings with key, valve of atmospheric purge, Ring of sealed and quilted tray folding.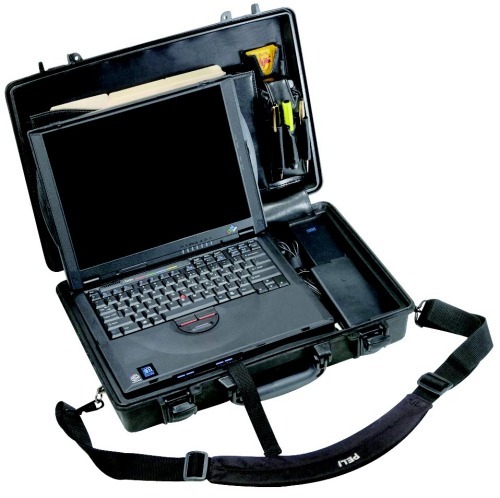 SCOPE OF TEMPERATURES
MINIM

-23ºC

PRINCIPLE

93ºC

DIMENSIONS
INTERIORS

45,1 cm x 28,9 cm x 10,5 cm

EXTERIORS

50,5 cm x 35,4 cm x 11,9 cm

DEPTH COVERS

DEPTH SUITCASE
BOUYANCY
Salt to water fleet with to load of 18,6 kg.
ACCESSORIES
#1491 - spare part foam Game (3 pieces)
#1472 - for Strap to shoulder
#1498 - Organizing to cover briefcase/PC to cover
#1499C - Tray fits PC
#1479A - Tray briefcase

It for dog ask to special for panel applications.
HOMOLOGATIONS
- IP67 (Ingress Protection, index 67). It makes reference to the protection against solid particles (first to number) and liquid (second to number). Therefore, 6 piss resistant to dust (being 6 the maximum index) and 7, to the immersion (being the 8 the maximum index, that corresponds to indefinite immersion).

- Certification STANAG 4280 - DEF STAN 81-41. It pleases to U.S. to communicate to him that all our suitcases (except for the range Micro of You marry) have successfully surpassed to diver extremely demanding tests of vibration, losses temperatures, dry heat and impact. In addition, all our suitcases count on the certification of Norms STANAG 4280 - DEF STAN 81-41. In order to obtain dwells data, his distributor or to supplier póngase in contact with.