| | |
| --- | --- |
| | DESCRIPTION of the PRODUCT |

ref: 1560000110
1560-000-110 Suitcase of protection Black with foam

Resistant watertight to the water and to the dust, resistant to substances chemical and to the corrosion. The 1560 estconstruida with copolímero of polypropylene that her makes practically unbreakable and resistant to the corrosion. This sealed with one puts together of sponge of polymer and includes a valve of compensation automatic of the pressure that her makes totally watertight to the water. His "shutters of double action" offer an easy opening though her keep completely closed of way sure in the event of fall or strokes. Comes equipped with wheels of poliuretano with treads of long duration with a handle extendable and a shutter of easy opening so carry her results from the most easier. For a maximum comfort also counts on handles front and lateral.
Guarantee unconditional... forever.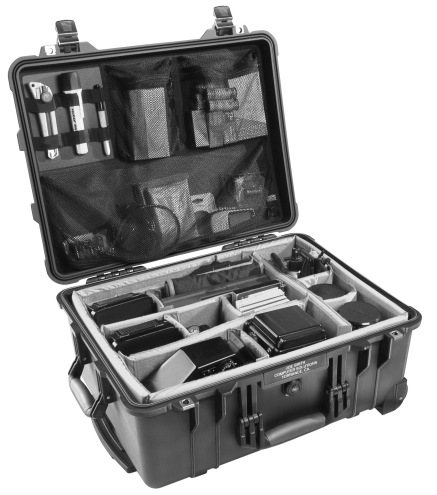 ENVIRONMENT OF TEMPERATURES
MINIMUM

-23ºC

MAXIM

+99ºC

SIZES
INSIDES
OUTSIDES

56,0 cm x 45,5 cm x 26,5 cm

DEPTH COVERS

DEPTH SUITCASE
FLOATING
Fleet in water salted with a load of 42,2 kg.
ACCESSORIES
#1562 - Himself skims off %u2018Pick & Plug%u2019
#1565 - Game of divisors padded
#1565 - Organizer covers
#1569 - Organizer cover/ photographer
HOMOLOGATIONS
- Certification STANAG 4280 Us pleases communicate it that all our suitcases (save the range of Mike Join) have surpassed with success several tests extremely exigent of vibration short temperatures heat dry and impact. Besides all our suitcases count on the certification of the Rules STANAG 4280- DEF STAN 81-41. To obtain more information puts one on contact with his distributor or supplier.