Manson SDC-5330
MANSON / MAAS SDC-5330 ultra-compact reducer. With a DC input from 19 to 33 volts. Provides 12-15 volt output at 30 amps continuous. It is Ideal for devices sensitive to their supply voltage thanks to the configurable output voltage range between 12 and 15 volts) that can be selected digitally in steps of 0.2V. The SDC-5330 is a very high-performance professional DC-DC voltage reducer with ultra-compact measurements of only 160 x 130 x 55 mm. In addition to its enormous reliability and stability, it offers an extensive list of features:
A separate always-on auxiliary output (0.5A, 13.8V) to power critical electronic devices or the remote on/off switch.
Two-stage battery charging function with 14.3V bulk charge and 13.6V float charge.
Three-digit LED display for voltage, current, operating mode and protection / fault diagnosis.
It has a remote control connection for manual or automatic switching on and off of the output voltage.
Remote voltage measurement for optimal and accurate power supply of remote loads or batteries to be charged.
Alarm output (13.5 V / 0.25 A) to power an external warning device (if input voltage is less than 19 V)
Separate permanent output (13.5V / 0.5A) for the power supply of electronic devices or a manual remote switch.
Fault protection and error code indication on the screen, auto-reset.
Thermostat controlled fan.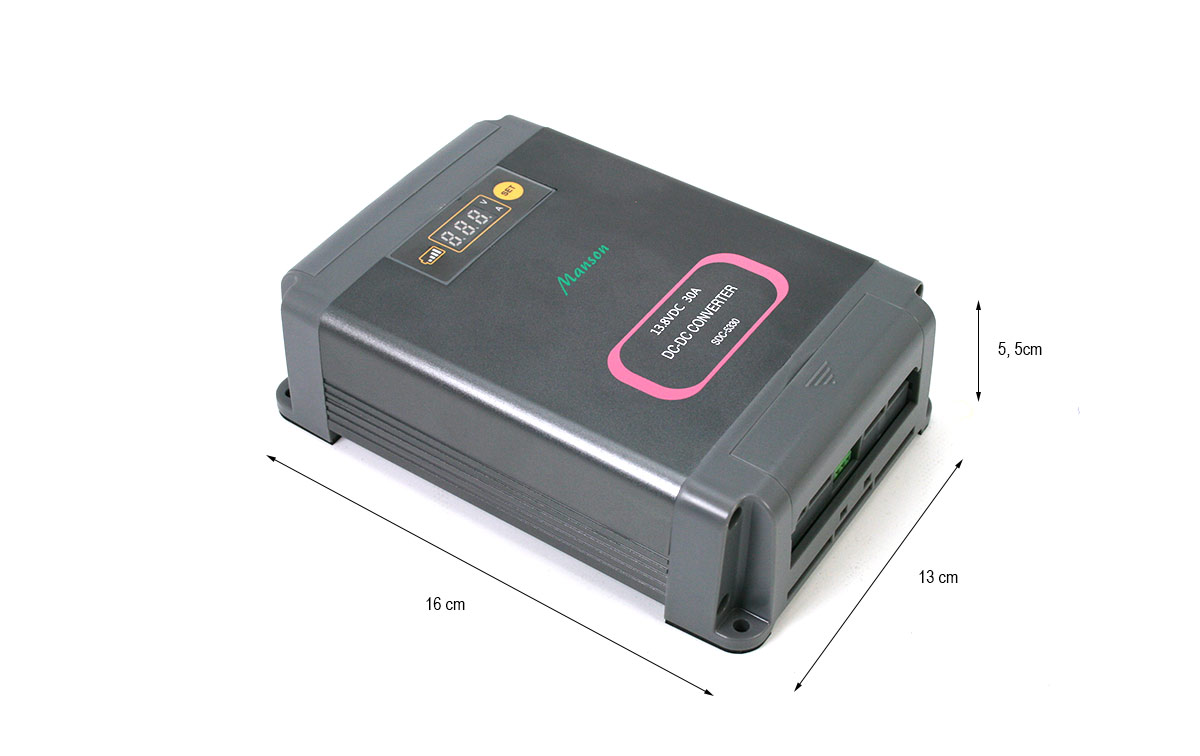 kit content
1 SDC-5330
4 round terminals