PSI 3000 24
PSI 3000 24
PSI300024 DCU Inverter 24 volts DC at 220 volt AC, 3,000 watts. Pure Senoidal Wave
PSI300024 DCU Inversor 24 volts DC a 220 volt AC,3.000 wats. Onda Senoidal Pura
Investors for dosmestico use with professional benefits.
Pure sine wave:
They can feed all types of reactive inductive loads, as well as all those of modified sinusoidal inverters.
Low level of electromagnetic radiation.
Bajo nivel de radiacion electromagnetica.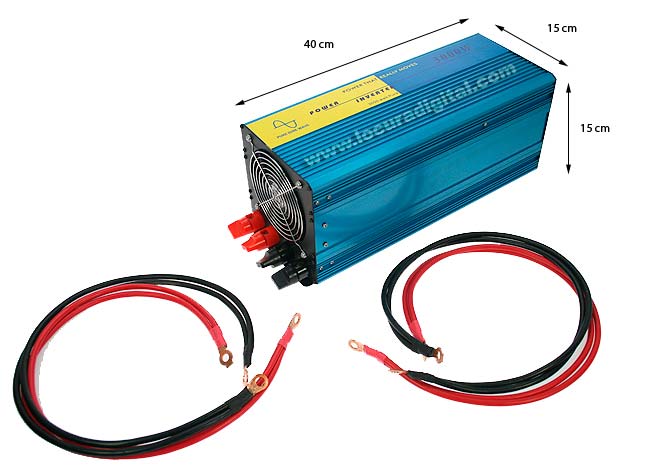 Choosing the right power:
Eleccion de la potencia adecuada:For a good operation it is recommended to use the inverter at 50% or 60% of its rated power, in this way it is guaranteed to better support the starting peaks of certain devices that in some cases can be 7 or 8 times their nominal value.
Para un buen funcionamiento se recomienda utilizar el inversor al 50% o 60 % de su potencia nominal, de esta manera se asegura que soporte mejor los picos de arranque de ciertos aparatos que en algun caso pueden ser de 7 u 8 veces su valor nominal.
Dimensioning of cables:
Dimensionamiento de cables:Very important especially when using high power inverters, in the connection of the battery with the inverter and because the direct current is muty high, if we want to lengthen this cable we must use a cable of suitable diameter to avoid losses voltage at the input of the battery that could cause the inverter to stop due to low battery voltage. The length and diameter of the cables supplied with the inverter is the eduacada for its pptencia
.
Muy importante sobre todo cuando se utilizan inversores de gran potencia, en la conexion de la bateria con el inversor y debido a que la corriente continua es muty alta, si deseamos alargar dicho cable debemos utilizar un cable de diametro adecuado para asi evitar las perdidas de tension a la entrada de la bateria que podria provocar el paro del inversor por tension de bateria baja. La longitud y diametro de los cables suministrados con el inversor es la eduacada para su pptencia Battery life:
It is very important to take into account that the energy that can be supplied by the inverter depends on the capacity of the battery (Ah), so for large power consumption, large capacity batteries are needed, otherwise the operating autonomy will be very low .
Duracion de la bateria:
Muy importante es tenewr muy en cuenta que la energia que puede suministrar el inversor depende de la capacidad de la bateria ( Ah) por lo que para grandes potencias de consumo se nesecitan baterias de gran capacidad ya que si no la autonomia de funcionamiento sera muy reducida.
Kit Contents
Contenido del kit
4 double power cables one red positive and black negative diameter 6.5 mm cable
4 Cables de alimentacion dobles uno rojo positivo y negro negativo diametro cable 6,5 mm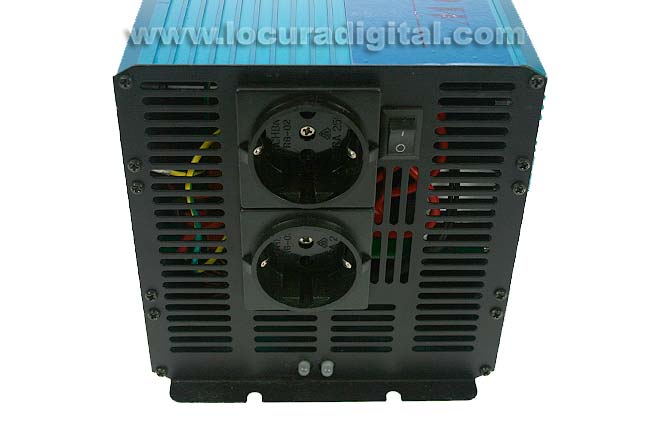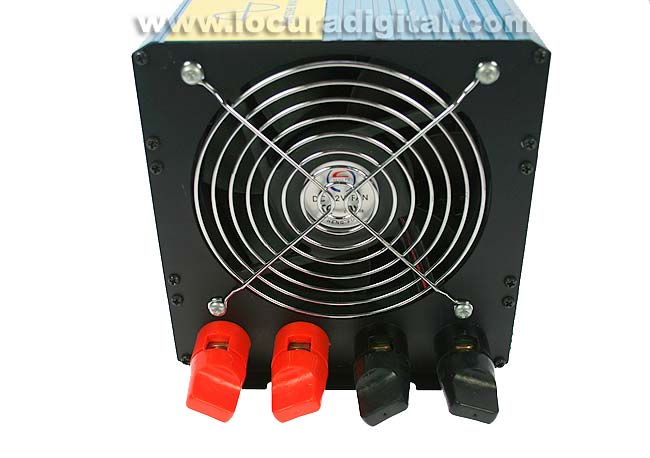 Features