DVD TRAVEL Supports for DVD in headrest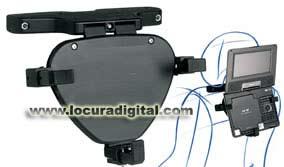 DVDTravel is useful, practical and sure: Created for the young men is easy of be used and compact.
DVDTravel is easy of ride and fit so that anyone can find the ideal of visualization and the job. On the other hand an insertion vertical and system of extraction of the DVD allows the maximum speed. DVDTravel is the answer perfect for those who want take advantage of the time travelling for rest, study or work.