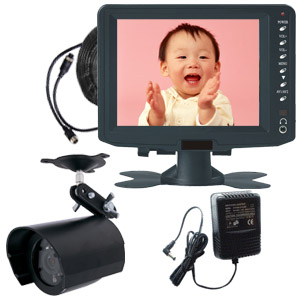 DF 1101. SISTEMA VIDEO VIGILANCIA + MONITOR 5 PULGADAS + ALIMENTADOR 220 Volts for his connection.

The kit this compound by a display of 5 inches that includes one camera outer of color with vision night. A camera that can place her in any point because is resistant to the rain.
The camera is very robust and adds a support so the assembly is easy. Thanks to this support can fix the angle of the camera. Includes tecnologia end that detects the light. At the moment in which the camera detects that not is lighting happens to the manner night of vision night.
So the VIDEO as the Audio enter to the display by the cable of connection that adds. The display allows invest the image.
The kit one subministra with all the accessories necessary gives birth an assembly easy without no kind of knowledge special. The food so of the display how of the camera one is realized by the transformer of current of 220 volts provided in the kit.
Display TFT LCD of 5 inches.
Cables connection of 15 metres.
One provides with everybody the accessories for his assembly.
POSSIBLE USES
Vision continuous of the camera
Connecting the display and the camera to the switch be able notice an image continuous of all what happens by the canal AV in our display.