emitting gas cooker, heater, butane gas, etc.. For more information see
manual gas detector.
3) The wireless smoke detector is to monitor for smoke and activate the fire alarm. Is
recommended to assign this switch in a surveillance zone 24 hours. Must be installed near the
possible places where fires may occur. See the manual for more info
Users smoke detector.
4) Wireless control with panic button is waterproof to request emergency assistance.
Recommend allocating to areas Panic
5) default password is 1234, you can modify by software configuration and
enter a new password.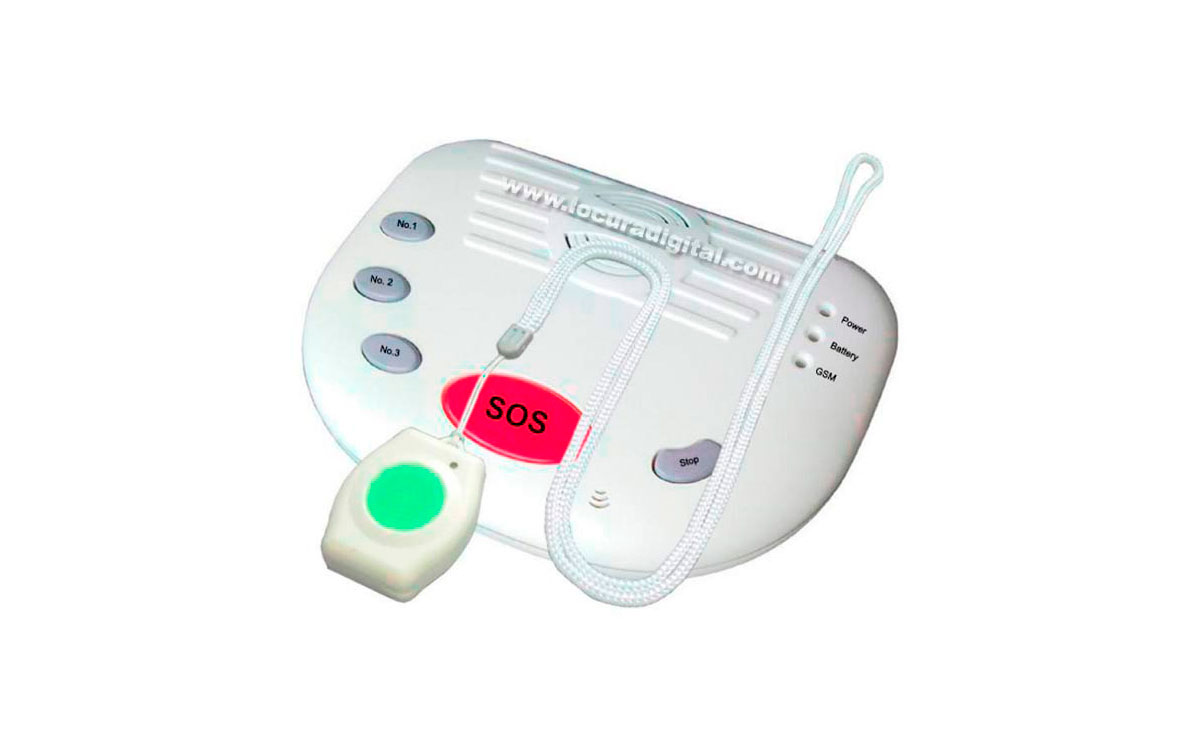 6) The remote control with panic button system is not necessary to configure and comes preprogrammed
factory.
7) two-way voice communication: during incoming call numbers configured on the
buttons N0. 1 to 3, SMS Alert No. 1 to 3, Call of Alarm No. 1 to 5, the team activated
the call automatically to the preset numbers and then voice communication
bi is on. To test the two-way voice communication, please be sure
that the other phone is away from the unit, at least 500 meters. Otherwise the team will
noise interference and feedback. An incoming call will be rejected after 5 rings if the
user pressed the Stop button to answer it.
1 Cable for Computer USB
Very Important.
If the handset called the team has voicemail enabled computer interprets
that has hook and will not call back
.
8) Please insert the sim card when you turn on the computer.
The SIM card must be installed because the team needs to get the time information
GSM network, otherwise without this time information not operate surveillance zones correctly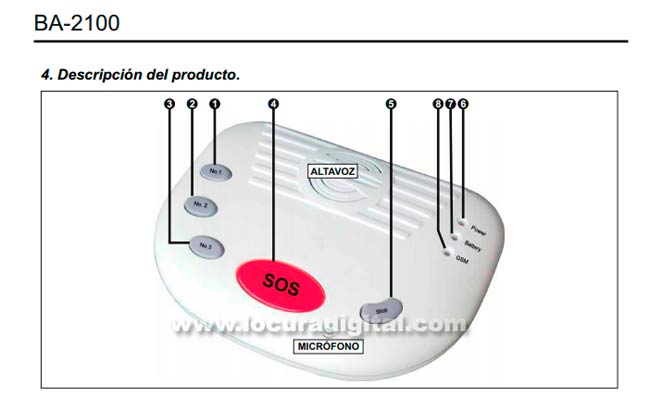 timers and the self-test equipment performance .
Features

Product Dimensions:. 165 (W) x 45 (H) x 125 ( P) mm.
Packed dimensions: 255 (W) x 90 (H) x 210 (D) mm
Close Call button press to directly call the first phone number configured.
No.2
.
No.3
Third call button, press to call directly to the third telephone number set
.
No.4
SOS button, click here to send an SMS alert to 3 numbers and 5 auto dial alarm numbers of
Direct Dial
.
No.5
The Stop button, press to stop the current operation or push to answer incoming calls.
No.6
Led external power. Lights once the original power supply it is connected.
No.7
LED internal battery. Lights once the external power supply (220VAC) is turned off,
to indicate that the control panel is feeding through internal battery
.
No.8
Step 2. Carefully insert the sim card in the BA-2100 GSM equipment .
Step 3: Please running the configuration software CD and select the port number
COM which is indicated in the device manager, is usually COM3, view images.
Step 4: Connect the BA-2100GSM to your PC using the supplied USB cable, but not
turn on the BA-2100 GSM equipment, otherwise the setup may fail.
Step 5: Modify the parameters (phone numbers, SMS messages) configuration software
BA-2100 GSM equipment.
Step 6: After modifying the parameters (phone numbers, SMS messages) of the finished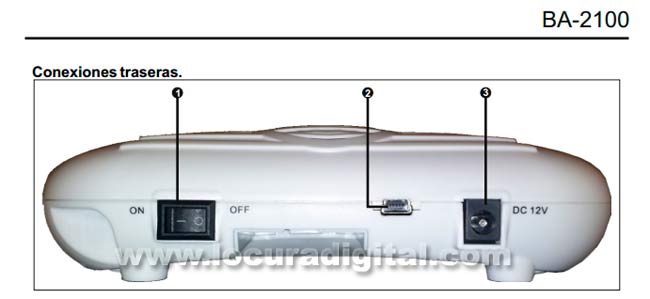 software installation, click the "Save Settings" button at the indicators on the bottom bar
can see that the color of indicator "Communication" will turn green and the indicator
"Information" will slowly change from red to green alternately Then turn on the A10 team
. GSM, after about 2 seconds, an indicating us window "Download completed!
Success" appears when the installation was completed successfully
Step 7. Shut down the computer and unplug the USB cable then turn on the computer to complete the
configuration
If you have not carried out the successful installation, means the configuration.. fails, check the
COM port and the USB connection, then repeat the setup again from Step 1 to
Step 6
. To read the configuration of the computer to check the data click on "Read Config" button , note that you must click this button and then turn on the computer
.
1) Quad-Band (850/900/1800/1900 Mhz) ensures operable worldwide.
2) has 1 red panic button SOS and 1 knob used to waterproof below for help
emergency. When elderly, children or disabled people need help, they can press the
red SOS button, or press the button on the waterproof remote distance, a panic alarm is generated,
BA-2100 GSM automatically send an SMS alert to 3 mobile phone numbers and mark 5
number automatically assigned to pick one of them is active and communication
loud.
3) has 4 zones wireless surveillance to monitor the activities of everyday life, it is very useful
for monitoring elderly, get help if in a period pre-set
one activates these sensors usually a person must pass through these places activating
1234 # M10 # PANIC ALARM ON # 3
4) has 3 wireless 24Hours surveillance zones, to control serious incidents,
special for smoke detector, gas leakage detector and water leakage detectors.
5) have 4 ads time to remind the elderly to be taken
medicine or planned activities or routines for a while.
6) has 3 phone numbers easily fixed dialing phone numbers of relatives,
services, police, etc.. once you press any of the preset number buttons, the system
create a two-way voice communication with the assigned number. So the elderly or
with disabilities can talk to their family with ease. In addition, you can call the team
Stop and push-way voice communication is automatically created.
7) has a rechargeable backup battery, high capacity, rechargeable 900mAh battery
capacity gives us confidence that the team can work around 12 hours
after a power failure. When the AC power is cut, 30
minutes then send an SMS alert to preset phone number when battery
computer already has a low charge is send an SMS warning "Low Battery" to the number of phone
default
.
5. Product Features.

8) self-check function is useful for ensuring that the equipment is in good working condition.
9) configuration, the device features an easy configuration via PC through the USB port or
via SMS.
6. Settings
BA-2100 The GSM PBX with a special design for ease of use. The user can configure
el equipo mediante el software de configuración a través del cable USB suministrado o mediante
mensajes SMS.
9.2 Installation Team
The control panel must be installed in a place where the person using it is easily accessible, has
note that the computer has power and a sufficient signal coverage
GSM. Make sure you are away from electrical or electronic equipment.
9.3 Installing wireless accessories
1) Wireless PIR motion detectors were used to monitor the movements of the
person using the computer. It is advisable to assign a detector to each of the areas
surveillance. Must be installed in places or positions in which the person has to go or travel on
them, for example the bedroom door, dining room, kitchen and bathroom, etc. The area of ??
effective detection is approximately 8-12 meters in front of the motion detector
Wireless PIR, for more information see the user manual PIR motion detector.
2) The leak detector Wireless Gas is to control gas leaks. It is recommended
botones N0. 1 al 3, SMS de Alerta No. 1 al 3, Llamadas de Alarma N º 1 al 5, el equipo activara
automáticamente la llamada a los números prefijados y a continuación la comunicación de voz
bidireccional estará activada. Si desea probar la comunicación bidireccional de voz, por favor asegúrese
de que el otro teléfono está lejos de la unidad, por lo menos 500 metros. De lo contrario el equipo hará
un ruido de interferencias y acoples. Una llamada entrante será rechazada después de 5 tonos si el
usuario no pulsa el botón Stop para responder a ella.
Muy Importante.
Si el teléfono al que llama el equipo tiene el buzón de voz activado el equipo interpreta
que se ha descolgado y no volverá a llamar.
8) Por favor, inserte la tarjeta sim cuando encienda el equipo.
La tarjeta SIM tiene que estar instalada debido a que el equipo debe obtener la información horaria de la
red GSM, de lo contrario sin esta información horaria no funcionan correctamente las zonas de vigilancia,
los temporizadores y la auto comprobación de funcionamiento del equipo.
9) Zonas, definición del funcionamiento.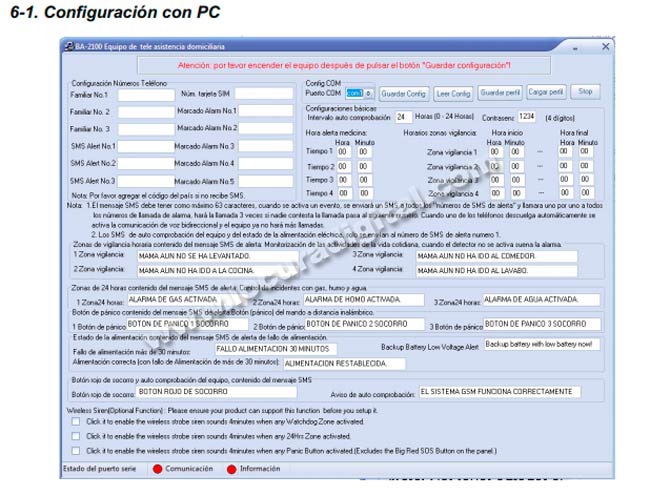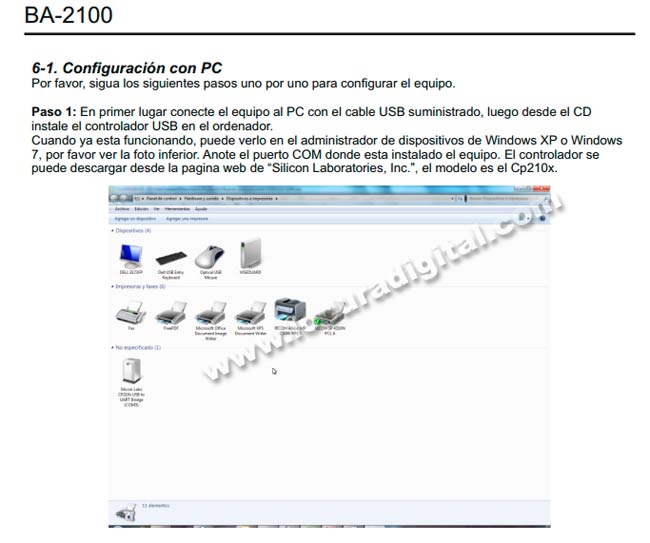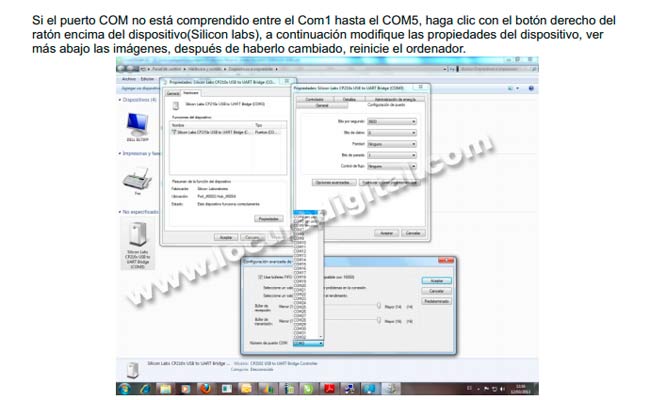 Paso 2: Inserte con cuidado la tarjeta sim en el equipo BA-2100 GSM.
Paso 3: Por favor, que ejecute el software de configuración del CD y seleccione el número de puerto
COM que viene indicado en el administrador de dispositivos, por lo general es COM3, ver las imágenes.
Paso 4: Conecte el equipo BA-2100GSM al ordenador mediante el cable USB suministrado, pero no
encienda el equipo BA-2100 GSM, de lo contrario el proceso de configuración puede fallar.
Paso 5: Modifique los parámetros(números de teléfono, mensajes SMS) del software de configuración
del equipo BA-2100 GSM.
Paso 6: Una vez terminada la modificación de los parámetros(números de teléfono, mensajes SMS)del
software de instalación, haga clic en el botón "Guardar config", en los indicadores en la barra inferior
podemos ver que el color del indicador "Comunicación" se iluminará en verde y el indicador de
"Información" cambiará lentamente de rojo a verde alternativamente. Luego encienda el equipo A10
GSM, después de unos 2 segundos, aparecerá una ventana indicandonos "Descarga completada con
éxito!" cuando la instalación se a terminado correctamente.
Paso 7: Apague el equipo y desconecte el cable USB. A continuación, encienda el equipo para finalizar la
configuración.
Si no se ha llevado a cabo la instalación con éxito, significa que la configuración falla, compruebe el
puerto COM y la conexión USB, a continuación repita de nuevo la configuración desde el Paso 1 hasta el
Paso 6.
Si desea leer la configuración del equipo para comprobar los datos haga clic en el botón "Leer config",
tenga en cuenta que debe hacer clic en este botón y luego encender el equipo.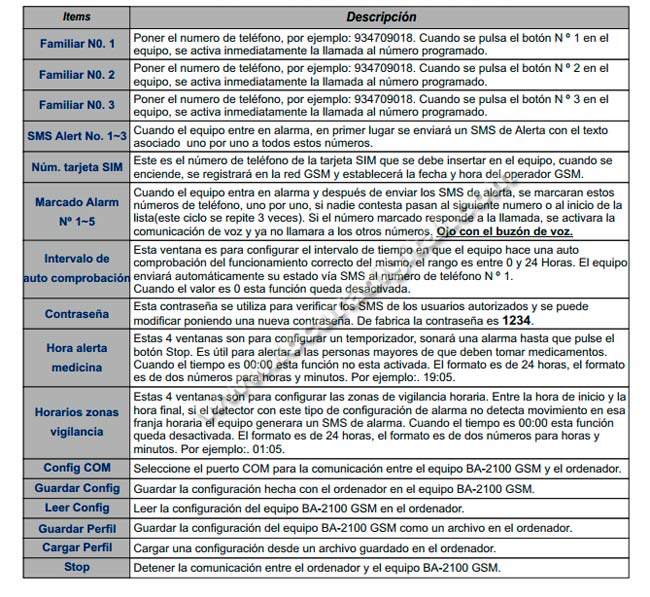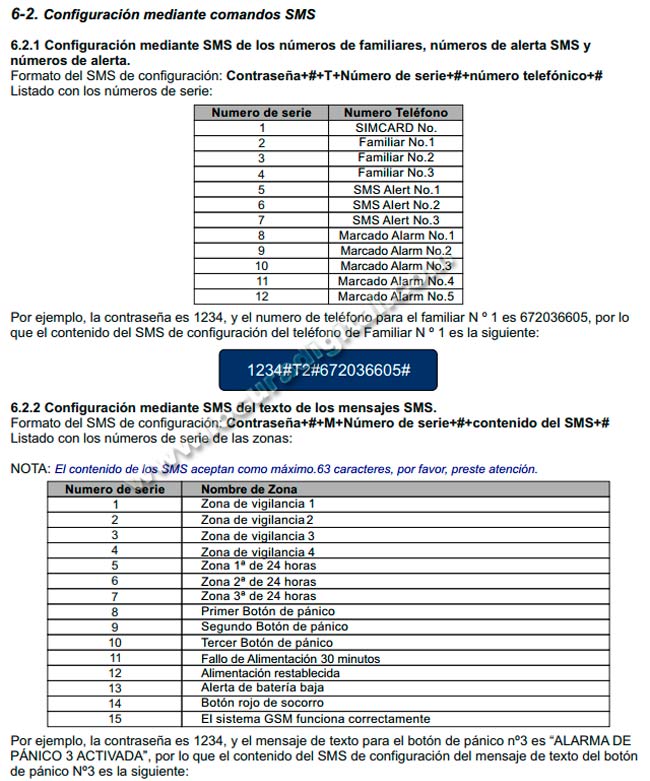 1234#M10#ALARMA DE PÁNICO 3 ACTIVADA#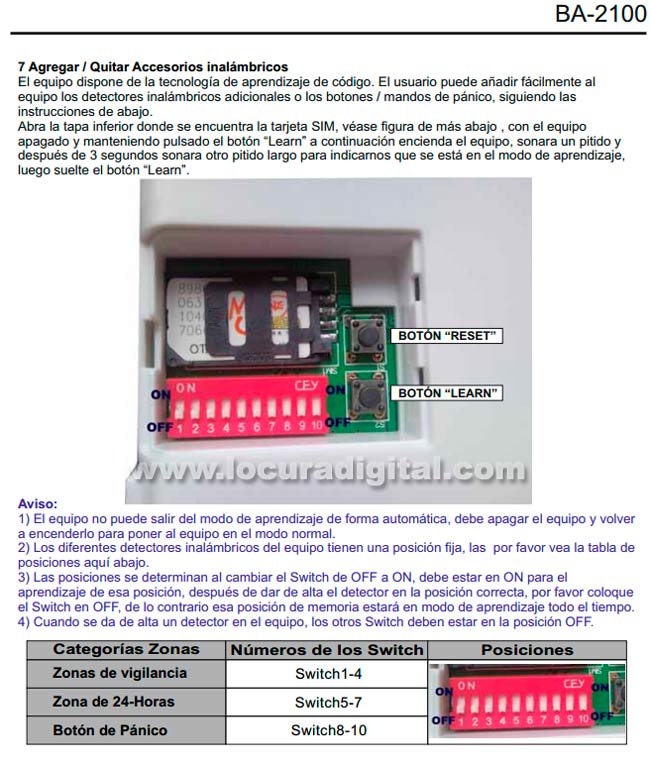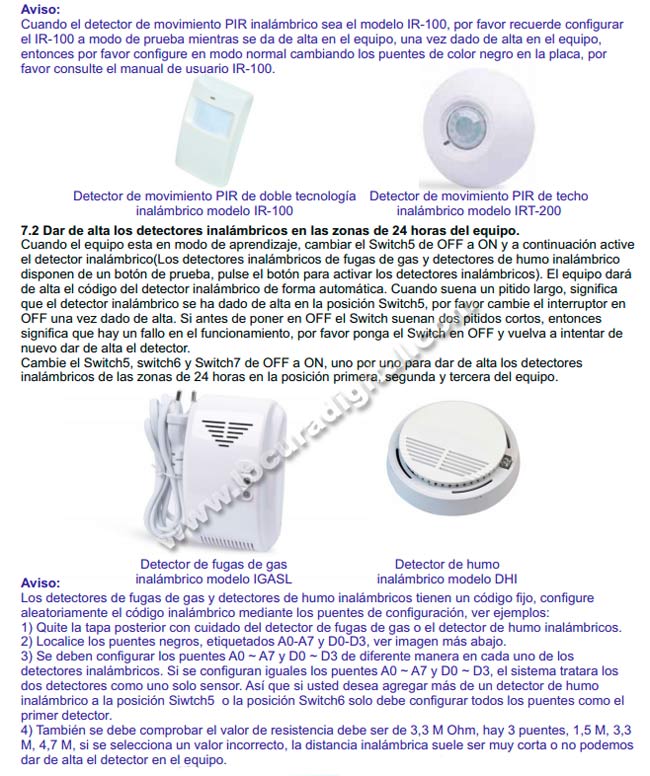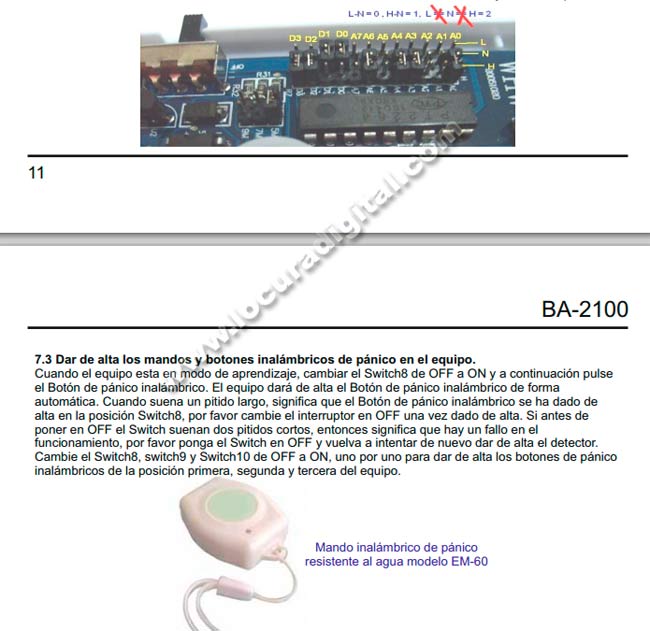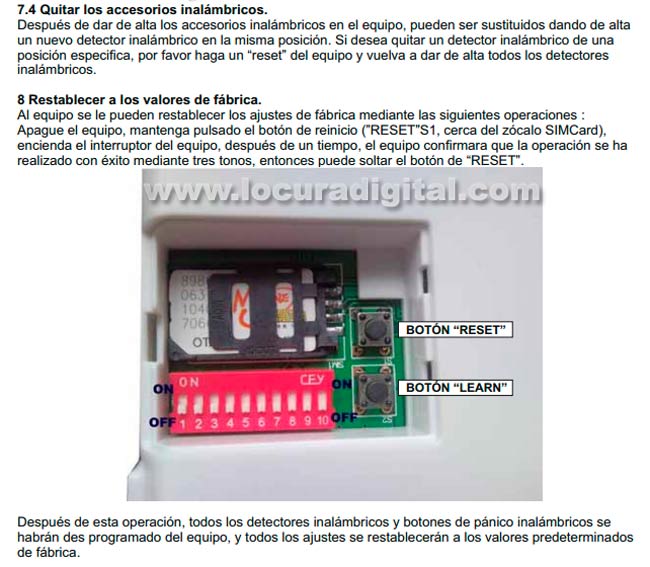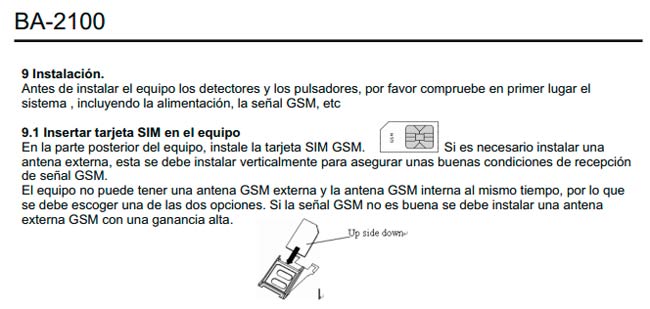 9.2 Instalación del equipo
El panel de control debe instalarse en un lugar donde la persona que lo use tenga un fácil acceso, tenga
en cuenta que el equipo disponga de alimentación eléctrica, así como una cobertura suficiente de señal
GSM. Asegúrese de que está lejos de equipos eléctricos o electrónicos.
9.3 Instalación de los accesorios inalámbricos
1) Los detectores inalámbricos de movimiento PIR se utilizaran para monitorizar los movimientos de la
persona que utilice el equipo. Es recomendable asignar un detector a cada una de las zonas de
vigilancia. Se deben instalar en lugares o posiciones en las que la persona tiene que pasar o circular por
ellas, por ejemplo la puerta del dormitorio, el comedor, la cocina y el cuarto de baño, etc El área de
detección efectiva es de aproximadamente unos 8 a 12 metros por delante del detector de movimiento
inalámbrico PIR, para mas información consulte el manual de usuario del detector de movimiento PIR .
2) El detector de fugas de gas inalámbrico es para el control de posibles fugas de gas. Es recomendable
asignar este detector en una de zona de vigilancia 24 horas. Se debe instalar cerca de los posibles
emisores de gas, cocina, calentador, bombona de gas butano, etc. Para mas información consulte el
manual de usuario del detector de gas.
3) El detector de humo inalámbrico es para monitorizar si hay humo y activar la alarma de incendio. Es
recomendable asignar este detector en una de zona de vigilancia 24 horas. Se debe instalar cerca de los
posibles lugares donde se puedan producir incendios. Para mas información consulte el manual de
usuario del detector de humo.
4) El mando inalámbrico con botón de pánico resistente al agua es para solicitar ayuda de emergencia.
Recomendamos asignar a las zonas de pánico.