MFJ MFJ-225
MFJ MFJ-225 HF/VHF GRAPHICAL ANTENNA ANALYZER, 1.8 - 170 MHz

Take RF testing to the next level with the new MFJ-225! All the basic analyzer functions you`ve come to depend on plus a host of advanced features like built-in LCD graphics, two-port VNA measurement, PC-Interface using IG-miniVNA freeware, precise DDS frequency control, self-calibrating . . . easy-to-use!
Two Analyzers in One
Out in the field, MFJ-225 is a compact completely self-contained handheld analyzer. On the bench it becomes a full-fledged two-port (S21) desktop machine when teamed up with your PC. Using powerful IG-miniVNA freeware, you`ll run detailed data analysis and then print out stunning color-graphic plots to document your work!
Seeing is Believing
Get a big picture every time with MFJ-225`s built-in back-lighted 3-inch LCD graphic display. Make fine circuit adjustments using full-screen easy-to-view SWR bar graph, capture vivid swept displays for SWR, impedance, return loss, phase angle, more! Operation is simple, you can adjust the center frequency, tuning step, and sweep width instantly while viewing your plot, literally shaping it before your eyes.
Continuous HF-VHF Coverage
Tunes from 1.5 MHz to 179.9 MHz with rock-solid stability and no gaps. That`s because the MFJ-225`s VFO is a state of the art programmable DDS (direct digital synthesis) generator with pin-point 1-kHz frequency resolution. DDS control means no mechanical band switches or tuning elements, just a reliable velvet-smooth optical encoder to glide across the spectrum.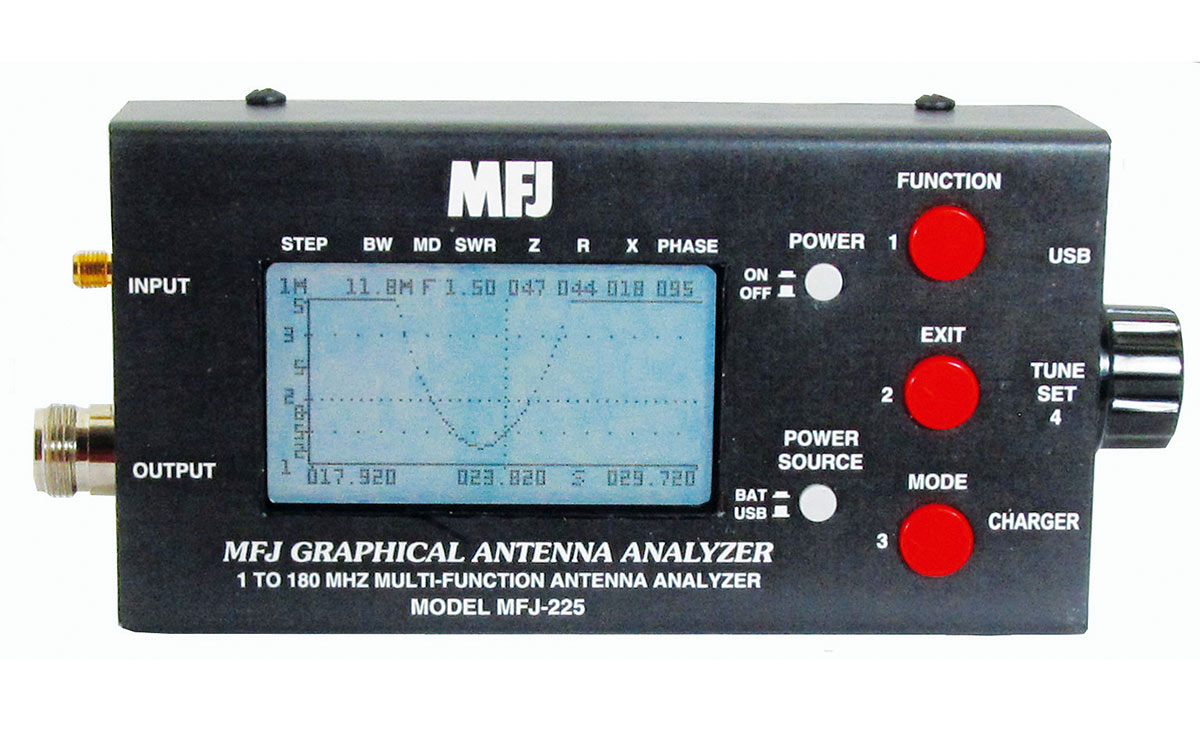 Kit Contents
1 MFJ MFJ-225 Antenna analyzer