GoPro HERO GRAB BAG AGBAG001
GoPro HERO AGBAG001 Accessory Set GRAB BAG
If you have a GoPro camera and need more brackets, this kit has all the fixings needed to refill your GoPro.

The Grab bag contains any of the accessories supplied kits Motorsport Hero Wide Helmet Hero Wide and. These parts and additional bases to continue making recordings from interesting angles.

Compatible with all GoPro HERO cameras have including; the HD Helmet HERO, Motorsports HERO HD, HD Surf HERO, HERO Naked and HD960 HD. Original part of GoPro.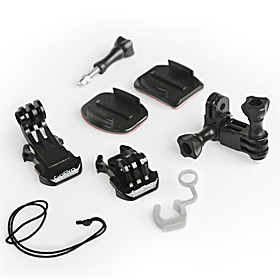 Kit Contents
3M ? adhesive 1 Support level
3M ? Adhesive holder 1 curved
1 buckle for easy open surface.
1 J-Hook Buckle for vertical surface
1 knob with nut and bolt
A pivot arm.
A dampener for easy opening.
1 Anchor Strap