VENUS
LAFAYETTE VENUS CB 27 Mhz. Station with undertones.
Mobile CB 27 Mhz. AM / FM.
This is a mobile computer easy and immediate use which gives the possibility to select any CB band, so it can be used in all European countries.
Supplied complete with microphone 2 meter extension cable and user manual.
Equipped with an extension cord 2 meters to extend the reach of the microphone which in turn is the transmitter (microphone cable 1 meter), allowing you to place the radio in different parts of the car, such as below A seat.
Screen, microphone, speaker and all control buttons are integrated into the microphone control.
The control is equipped with a special connector cable connected to the radio. 2m extension cable distance between the front panel and the module are posibles.Por design, installation in vehicles designed very flexible. The black box can be easily installed in the car seat or extension cord, even in the trunk.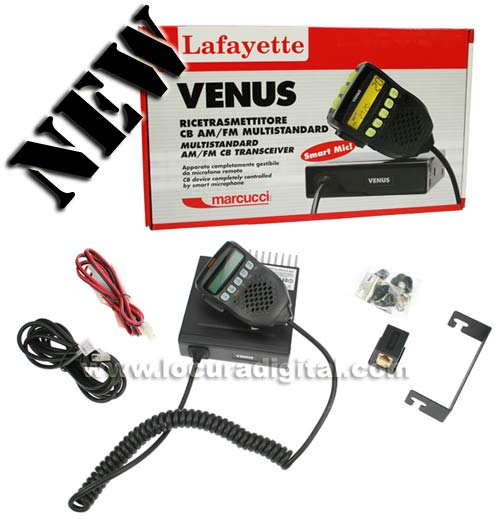 Viewing the operating frequency and channel number
Scanning with adjustable stop and restart set on 4 levels
Priority Channel
Multi frequency setting
Backlighting of the screen and the keys in three colors (green, blue and yellow)
Weather out timer function
Roger BeepButton operation with acoustic signal (beep key)
volume control (40 levels) / oN / OFF
9 levels with adjustable squelch function ASQ
the received signal strength indicator
indicator transmission energy
direct access to emergency channel 9 or 19
Local DX Function
Keylock
Microphone Cable RJ45 modular connector for quick installation
external speaker jack
Kit Contents
1 radio Venus
1 Cable feed
1 Support microphone
1 Microphone Adapter Extender
1 Cable extension microphone 2 meters.