Yaesu VX-6
New Yaesu VX-6 E is a dual band portable for use radioaficionados144 / 430 VHF / UHF with improved reception. Its highly robust design gives high-level qualities such as Submersible to 1 meter for 30 minutes or resistant to the usual bumps for use in ócio, hiking, mountaineering etc. In hazardous activities such as hiking we can be very useful features EAI Emergency Automatic ID or multicolor LED high brightness.
EL Yaesu VX-6 includes DTMF keypad for direct access to functions and supplied frecuencias.Se series with high capacity battery 1250 mAh Lithium Ion technology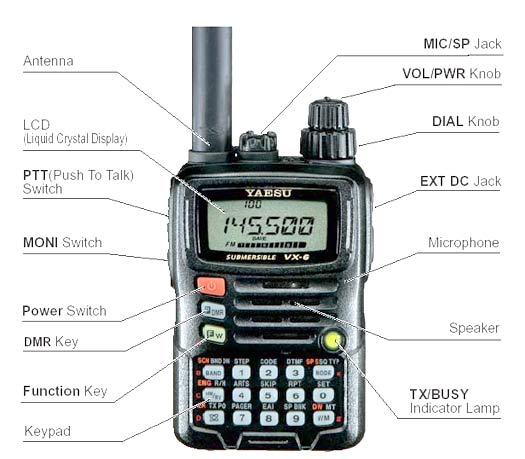 buying this kit acquires Charger fast Desktops CD-15 that will allow you to charge your Yaesu VX-6 very fast and convenient way .
Kit Contents
1 Walkie talkie Yaesu VX-6
1 Antenna for VX-6
1 Battery 1250 mAh lithium
1 Charger wall NC72C
1 CD-15 (Charger fast desktop)
1 Belt Clip for Yaesu VX-6
Manual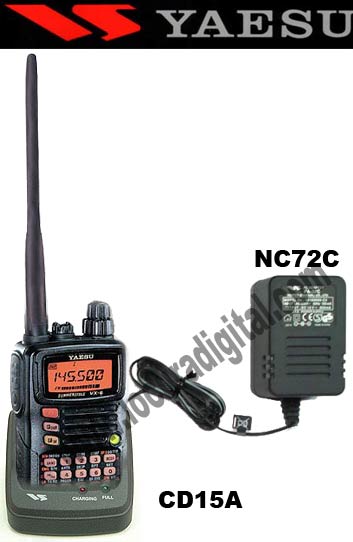 The Yaesu VX-6 is designed to withstand the most extreme situations such as water with this walkie talkie you can perform activities which can occur at some time in the water and not worry about his walkie talkie.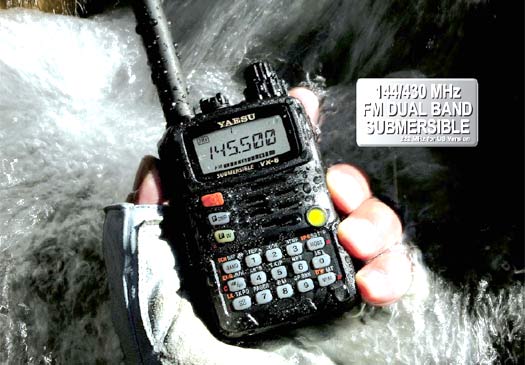 The chassis Yaesu VX-6 is protected with a seal that makes it totally a walkie talkie waterproof and water resistant. The connectors of this equipment have also been designed to fit perfectly and not allow any filtering liquid was inside the VX-6 .
If you want it on our website may also find waterproof accessories like MH73 A4B. .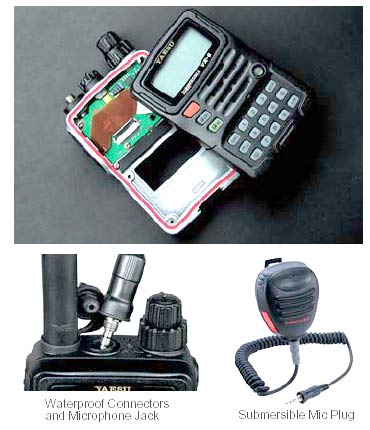 The possibilities Yaesu VX-6 are very spacious and you can competarlas with a range of optional accessories as:
SU-1 barometric sensor, it can detect sudden changes in weather conditions: The SU1 is not an element of precision should be used for information
E-DC5B: Cable car power
FBA- 23:. Portapilas, uses 2 AA batteries
MH-57 Speaker Microphone A4B
CSC-91 case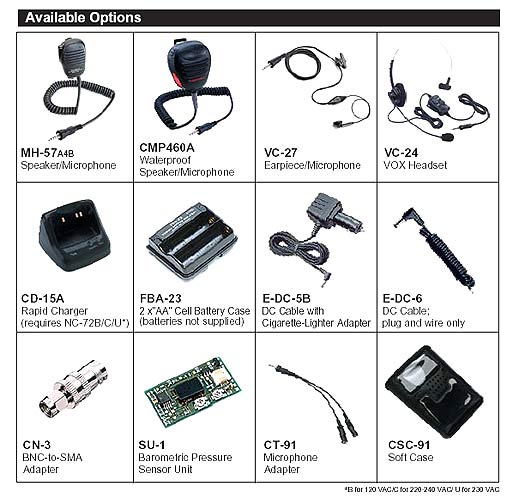 Features
Portable bibanda V-UHF 5W, improved reception
Supplied with Lithium ion battery FNB-80 highly durable 1250 mAh
Submersible 1m 30' meets standards JIS7 ??underwater sealing
900 alphanumeric memories with 24 banks for your organization
EAI personal emergency system (automatic transmission controlled by remote code personalized to monitor the user in case of staying prevented, caught etc. The user does not need to press the PTT to indicate their status automatically perform the TX)
ARTS
TOT
Smart Search
Auto Power Off.
Ergonomic design can handle even with gloves, mountain situations or extreme cold.
Diseño ergonómico se puede manejar incluso con guantes, situaciones de montaña o frió extremo.
Large illuminated display
Gran display iluminado
Battery Saver Tx and Rx
Economizador de baterías en Tx y Rx
BCLO
BCLO
locking system with carrier emission detected
Sistema de bloqueo de emisión con portadora detectada
including CTCSS and DCS DCS encoder
Subtonos CTCSS y DCS incluidos DCS encoder
Information load level display.
Selective Calling 2 tone CTCSS
ARTS system coverage checker
4 types of scanner
Access to WIRES, voice gateway system via internet
Dimensions and weight: 58x89x28mm, 270g full
Medidas y peso: 58x89x28mm, 270g completo.
.