We are informing you that this Friday will do the inventory; for this reason our store and office will remain closed.
We will be back on Monday in our usual commercial time.
Special opening time
05/01/2015 09.00 to 15.00

YAESU Md 100A8X tablecloth Microphone for FT 817/ FT857/FT 897 FT 450
We're working in our new page, i'ts possible that you discover some mistakes.
In that case, you can notify us
YAESU Md 100A8X tablecloth Microphone for FT 817/ FT857/FT 897 FT 450AT


Thought microphone Md 100 this for the Radio hams who need a high level benefits at the time of the communications to long distance in HF.
Among other remarkable characteristics we can emphasize the seleccionables filters from the inferior panel of the base; the filter eliminates low cuts to the VLF noises vibrations etc. Thepre-emphasis device allows us to optimize the modulation heightening it in the zone of greater energy of the vocal frequencies, allowing usthus to have one more a modulation more penetrating than it arrives where others cannot be distinguished.
We can use the microphone mounted in the base with a support that allows to find the ideal position us to our site of transmission or to use only the microphone in the hand.
In the base they are located a pulser with look PTT to facilitate the long conversations and the keys of escáner "to raise" "to lower" frequencies to facilitate the displacement in the band.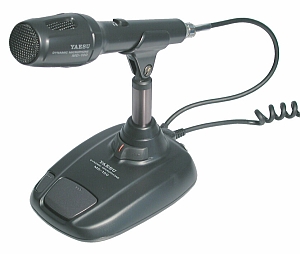 Capsule type: Dynamics
- Impedance: 500 Ohms
- Answer of frequencies: 100-5000 Hertz (-6 dB)
- Selector of "Filter eliminates low"
or OFF standard passage of frequencies
or Position 1: -3 dB, cuts of 1000 to 150 Hertz
or Position 2: -3 dB, cuts of 1000 to 300 Hertz
- Sensitivity: -75 + - 3 dB to 1 KHz, 500 Ohms
- Dimensions:
. Base:112x156,5x151 mm
. Microphone: 42.5 Diameter x 189mm
- Weight: 670 g approximately