Optimization IPO intercept point, used in low frequency bands disconnecting the preamp for better reception
"NOISE BLANKER" adjustable noise eliminator
Multiple facilities for telegraphy..; CW Keyer mail message with 3 memory included (useful for competitions etc), and CW PITCH automatic telegraphy coach
.
Spectrum analyzer to monitor the activity of the band
.
Smart Search System "SMART SEARCH" and ARTS tester coverage
2 Unit DSP DSP included
multifunction DSP; includes DSP bandpass filter, notch filter, DSP noise reduction and microphone equalizer to optimize the transmission modulation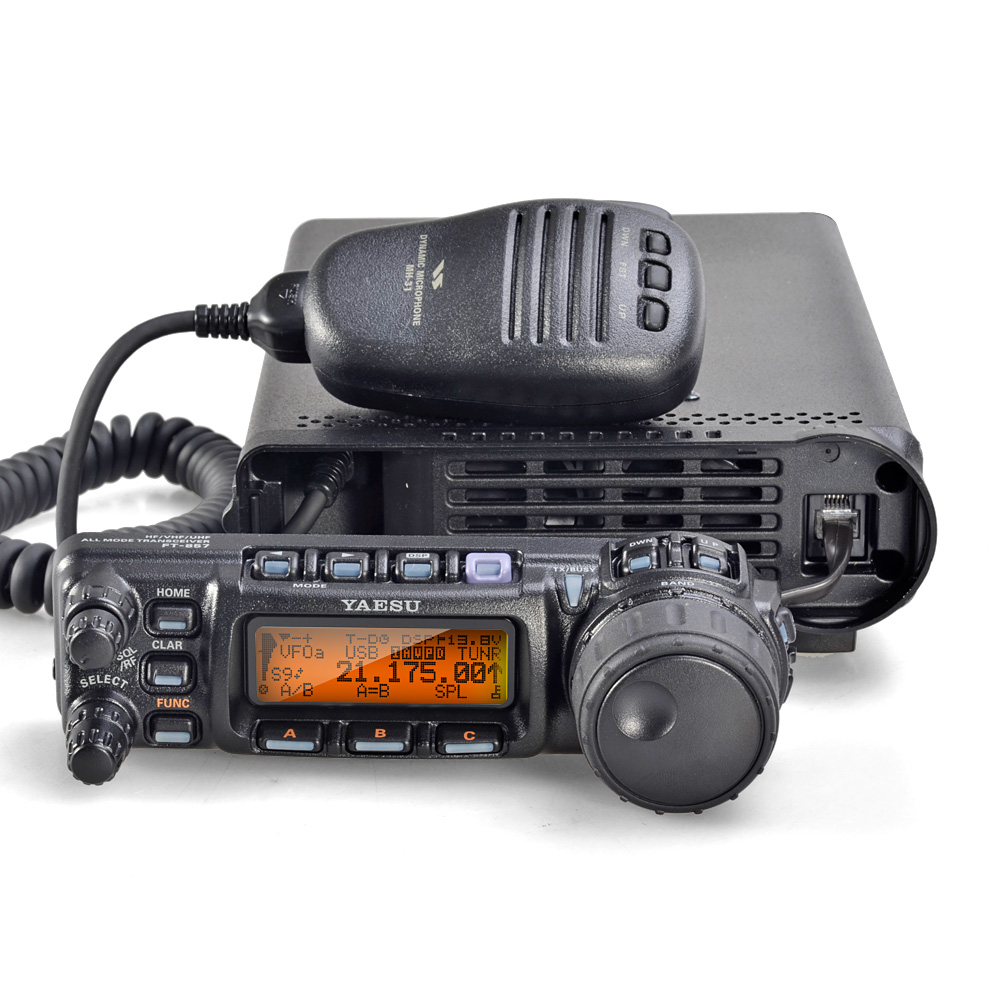 measurement and weight. 155x52x233 mm 2.1kg
Optional Mobile Antenna ATAS 120, multi-band internal automatic coupler
Its more than 200 alphanumeric memories provide instant access to our favorite frequencies.
Operation with removable front option YSK 857
.
In summary the FT 857D will encourage you to enjoy the climactic world of Amateur Radio.


FT 857D Kit Contents
Station Yaesu FT 857D
Cover of the station
microphone to the station
Power cable with built-in fuse holder and 2
Support for the station
2 spare fuses
Screw Kit
Spanish and English Manual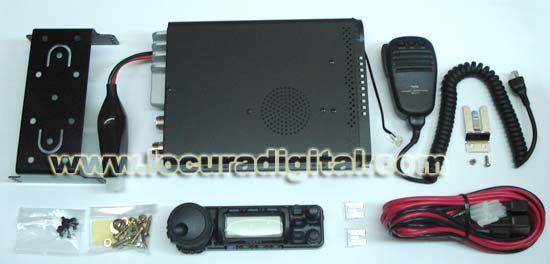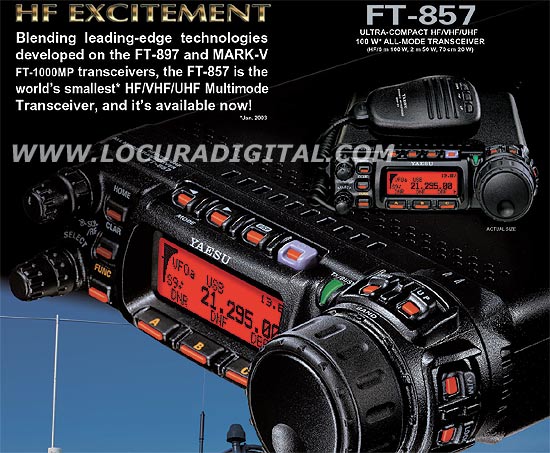 YAESU YSK857
Kit head to separate the front of our station YAESU FT857
Kit Contents YSK857
1 Cable control (6-pin RJ)
1 Extension cable Speaker
1 microphone extension cable (8-pin RJ)
100W RF power in the HF band (VHF 50W, 20W UHF)
high performance receiver designed from the FT 1000MKV
200 alphanumeric memories.
Etc. matrix type display high resolution in 32 colors selectable, assigning each function, memory a unique combination.
DDS VFO designed with Direct Digital Synthesizer
Dial oversized ergonomic, high wearing comfort and total access to the main functions; Frequency up, down, band, reports etc.
Front panel with all functions accessible.
Moving the intermediate frequency "IF SHIFT" to eliminate unwanted signals
"NOISE BLANKER" adjustable noise eliminator.
Multiple telegraph facilities; CW Keyer mail message with 3 memory included (useful for competitions etc), and CW PITCH automatic telegraphy coach.
Spectrum analyzer to monitor the activity of the band
Smart Search System "SMART SEARCH" and ARTS coverage checker
DSP optional multifunction; includes DSP bandpass filter, notch filter, DSP noise reduction and microphone equalizer to optimize the transmission modulation.
Optional Mobile Antenna ATAS 120, multi-band internal automatic coupler
SCU 17 USB Driver Installation Manual English (459.10 KB) pdf
ATAS 120A Installation / Operating Instructions English (645.42 KB) pdf
ATAS 25 English Operating Manual (602.91 KB) pdf
FC 30 English Installation Instructions (754.71 KB) pdf