MIDLAND G5XT
MIDLAND G5XT PACK OF 2 HANDHELDS + 2 Chargers. Free Use Handhelds. BIRTH OF A NEW PMR446 RANGE
Midland G5. FREE USE, WITHOUT LICENSE, you can communicate with any other pmr446 equipment to a maximum distance of 3 km (in optimum conditions of use).
Subtle line and small dimension, MIDLAND G5XT is a easy-to-use and extremely practical equipment, works with rechargeable or alkaline AAA batteries.
The 38 CTCSS ensures free interference communication even from other radio equipments, VOX function enables hands-free communication.
Backlight Multifunction Display
Pushbutton UP / DOWN to change channels and volume regulation
38 CTCSS in Rx and Tx
Auto Power Save: automatic battery saving circuit reduces battery consumption by up to 50%
Indicator on the display of battery level
VOX function for hands-free communication
Roger Beep, tone for end of conversation (off)
SCAN function, search for free / busy channels
Squelch, filter for noise reduction
Keypad Lock / unlock
Accessories depending on the models
Includes the BABYSITTER function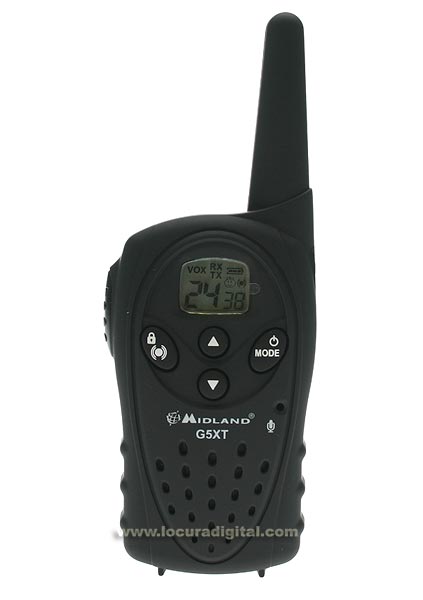 Kit contents
2 HANDHELDS
2 Individual Chargers
6 "AAA" Batteries
2 Belt Clips