YAESU G650-C
YAESU G650-C Antenna rotator and controller. Rotation Torque 600 kgf-cm / Braking Torque 5000 kgf-cm

YAESU rotators are designed with a philosophy of strength and durability. Depending on the model we choose we can satisfy the various needs and different uses; television, amateur, military, satellite tracking, etc.
The treatments and external connections are designed for resisting the most adverse weather conditions. Aluminum alloy chassis waterproof and lubrication resistant for years. Its planetary type brake system eliminates false contacts and provides a quiet, reliable operation.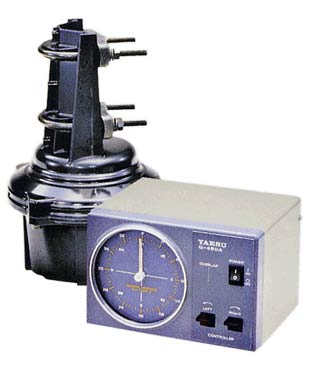 YAESU G650-C Kit Contents
1 rotator
1 controller
1 user manual
Features
Wind Loading Area 2 m2
Braking Torque 5000 kgf-cm
Rotation Torque 600 kgf-cm
Maximum Vertical load Continuous load 100 kg
Maximum Vertical load Instantaneous load 300 kg
Mast Outside Diameter f32 to f63
360° Rotation Time 63 seconds at 50 Hz
Rotor Dimensions 170mm diamenter x 263 height
Weight approx. 3.2 Kg