REF. AIRCELL7. OF 50 OHMS STOPS AERIALS OF RADIOCOMUNICACION CABLE OF VERY SHORT LOST. --- SALE BY METRES

AIRCOM PLUS is a cable coaxial with excellent properties mechanic and electrical. His ground floor characteristic of the loss of the ago very adequate for applications even in the rank of microwave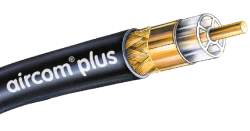 AIRCOM PLUS one is characterized by an expander PE smocking that keeps the impedance correct even when abruptly doubled. The expander provides a stamp tight around the leading central solid, that esthecho of copper without oxygen by him so guarantee his protection against the humidity and the corrosion.

Other characteristic of AIRCOM PLUS is his double shield ground that one is built of the overlapping of copperfoil more one additional perfectly weabed copperbraid being in an efficiency of detection > 85 dB @ 1 GHz.

The copperfoil has a covering applied PE that prevents the sheet of cracking because of the curves of short radium and the sheath of PVC black of AIRCOM PLUS is the radiation UV rflx.

AIRCOM PLUS is the 1 election when joins short loss of microwaves valuated cable is compulsory. Is price economic him turns into the opening leading for the exigencies of the applications.
- DIAMETRO: 10,3 mm
- Impedance: 50 ohms.
- Attenuation: 100 mts. 13,4 dB.
- Frequency Maximum: 6 Ghz.
Technical Dates (short form )
Impedance
50 Ohm
Capacity per put
81 pF
Velocity factor
0,83
Screening efficiency @ 1 GHz
>85 dB
Center Driver
solid copper, 1 x 2,7 mm
Dielectric
Air with PE Expanders
Diameter over sheath
10,3 mm
Min. bending radius
55 mm
Weight (100m )
15 kg
Max. power handling (W @ 40°C )
10 MHz
3980
100 MHz
1210
1000 MHz
340
Typ. attenuation (DB @ 20°C )

Frequency

100 m

100 ft

100 MHz

3,8

1,16

500 MHz

9,0

2,74

1000 MHz

13,4

4,08

2000 MHz

20,1

6,13

2400 MHz

22,5

6,86

3000 MHz

25,9

7,90

4000 MHz

31,1

9,48
For your reference

AIRCOM BONUS

RG 213/ or

RG 58/ or

Capacity pF/ m

81

101

102

Velocity factor

0,83

0,66

0,66

Loss in dB/ 100 m
10 MHz

1,2

2,0

5,0

100 MHz

3,8

7,0

17,0

500 MHz

9,0

17,0

39,0

1000 MHz

13,4

22,5

54,6

3000 MHz

25,9

58,5

118,0