LAFAYETTE APOLLO BLACK


LAFAYETTE APOLLO BLACK. Transceiver CB 27MHz. Black colour.
New and innovative concept in 27 Mhz radio transceivers. With a full-featured features, the Apollo is distinguished by its small size, especially in matter of depth, ideal for those vehicles which have a reduced space to place the transceiver.
Its box dimensions are 14 cm width x 12 cm depth x 4 cm high. Further down you can find a scheme with the external dimensions.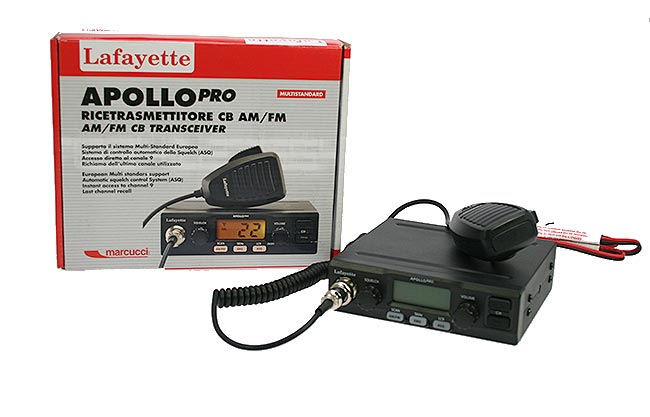 Kit Contents
1 APOLLO PRO transceiver
1 Hand Microphone
1 Power cable
1 Microphone bracket
1 Transceiver bracket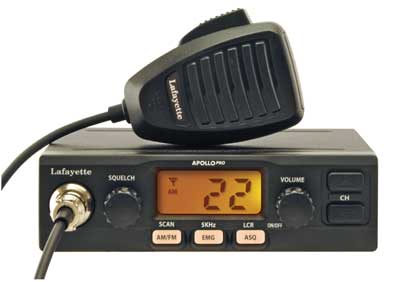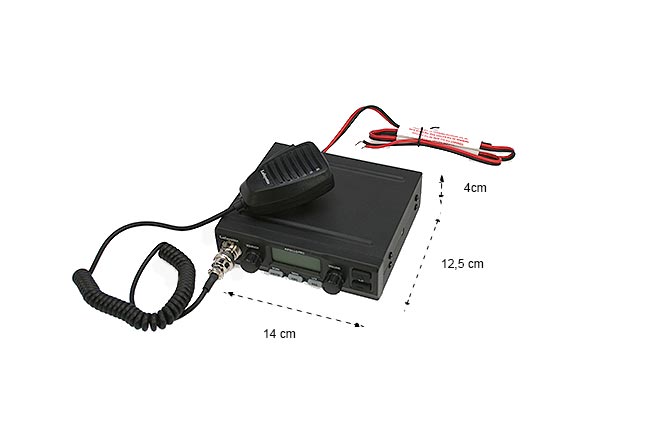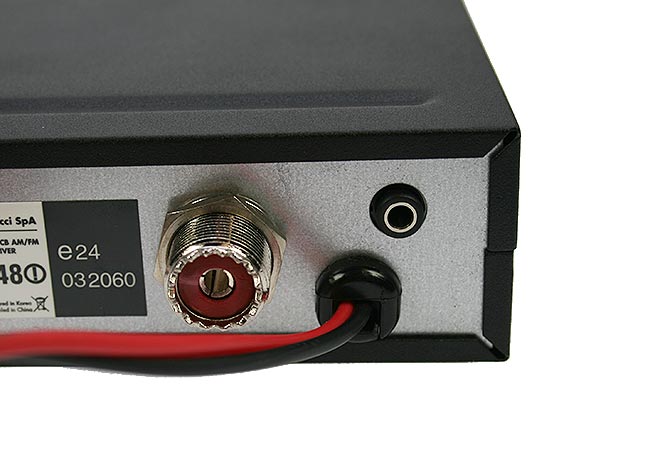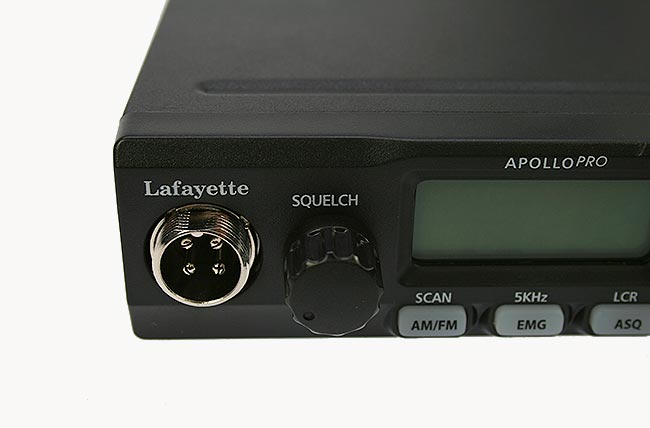 1 ON / OFF On / Off volume control
This control sets up the device and adjusts the suitable volume for receiving communications.
2 SQUELCH Control
Turn this control clockwise to mute the device when not receiving a clear signal and just listen to noise, this will achieve a quiet and comfortable standby status.
3 AM / FM Selector
Press this button to select between AM or FM.
4 SCAN Button
Your CB device incorporates a channel scan function. This function allows you to scroll through the 40 channels and stop on a busy channel, remaining on that channel for about 7 seconds after the end of the conversation is detected, immediately afterwards resume again scanning the next channels. To activate this function press the SCAN button, on the display the operation will be indicated. If you would like to end the action of scanning, press the SCAN button or the PTT button on the microphone, this will end the scan function.
5 Botón CHANNEL 9 / RESET button
Press this button in an emergency situation, this will lead you immediately to Channel 9 (emergency channel). This button can also be used as RESET when the transceiver does not work properly. Hold down this button while turning on the radio to reset the device. Making this action, the display will show "RS" and the transceiver will return to the original factory settings.
6 UP / DOWN channel selector
Press the UP or DOWN button to select the desired channel. When these buttons are continuously pressed the channels change quickly up or down depending on which button you choose.
7 Power cable Connection
Connect the power cable to the car battery (red wire to positive 13,8 volts and black wire to ground) or power supply (in the same manner as the battery voltage). Pay close attention to this step, a wrong connection (reverse polarity) or a higher current voltage to 13,8 volts will damage the equipment.
External Speaker
The transceiver has a connector on its back side for connecting external speaker with a plug type jack 3.5 mm.