LDG IT 100
LDG IT 100 Automatic Antenna Coupler from 1.8 to 54 Mhz
The LDG IT 100 coupler automatically provides the antenna coupling for the ICOM IC7000 among other ICOM models across the entire HF range, plus the 6 meters. With coaxial cable you can tune dipoles, vertical and any antenna virutalmente. The IT100 coupler consumes very little power and thanks to the relays it consumes practically nothing when it is in standby.
Thanks to its new improved algorithms, the LDG IT 100 coupler provides much faster and more accurate adjustments. The IT 100 is compatible with IC 7000, IC 706 (all versions), IC 703, IC 718, IC 746, IC7400 and IC 756 (all versions)
El acoplador LDG IT 100 proporciona automáticamente el acoplamiento de antena para el ICOM IC7000 entre otros modelos ICOM a lo ancho de todo el margen de HF, más los 6 metros.
Mediante cable coaxial puede sintonizar dipolos, verticales y cualquier antena virutalmente. El acoplador IT100 consume muy poca potencia y gracias a los reles no consume practicamente nada cuando se encuentra en espera.
Dimensions LDG IT 100 Antenna Coupler
Gracias a sus nuevos algoritmos mejorados el acoplador LDG IT 100 proporciona ajustes mucho más rápidos y precisos.
Kit contents
El IT 100 es compatible con IC 7000, IC 706 (todas las versions), IC 703, IC 718, IC 746, IC7400 y IC 756 (todas las versiones)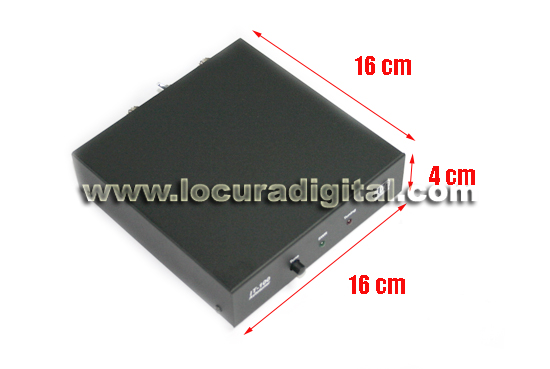 Coupling
Medidas LDG IT 100 Acoplador de Antena
Contenido del kit
IT 100 does not include cable hose PL
Features
0 to 125 Wpep (SSB and CW), 100 W continuous (RTTY)
2000 memories for instantaneous change of frequency or band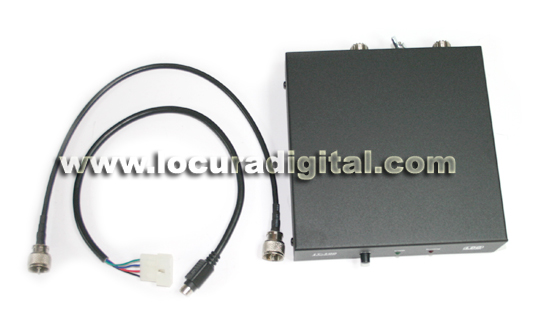 Tuning time: 0.5 to 6 sec. in full tuning, <0.1 sec in memory
Frequency coverage: 1.8 to 54.0 MHz
Charge loads between 4 and 800 ohms (16 to 150 ohms in 6 meters), 4 to 3200 ohms
Balun 4: 1 optional (LDG RBA 4: 1)
Compatible with IC 7000, IC 706 (all versions), IC 703, IC 718, IC 746, IC7400
and IC 756 (all versions)
2000 memorias para cambio instantáneo de frecuencia o banda
For dipoles, vertical or "V" antennas, and directives fed with coaxial cable
Size: 16 x 16 x 4 cm
Weight: 660 g
Cobertura de frecuencia: 1,8 a 54,0 MHz
Acopla cargas entre 4 y 800 ohmios (16 a 150 ohmios en 6 metros), 4 a 3200 ohmios
Balun 4:1 opcional (LDG RBA 4:1)
Compatible con IC 7000, IC 706 (todas las versions), IC 703, IC 718, IC 746, IC7400
y IC 756 (todas las versiones)
Para dipolos, antenas verticales o en "V", y directivas alimentadas con cable coaxial
Tamaño: 16 x 16 x 4 cm
Peso: 660 g