| | |
| --- | --- |
| | DESCRIPTION OF THE PRODUCT |

ref: 0370001110
0370 001 110 Suitcase of Black protection, without foam WITH OPTIONAL WHEELS


The 0370 plows the second cubical suitcase developed by Peli%u2122. This new and ample suitcase you have been developed with the same material, polypropylene to copolymer, that the rest of Peli%u2122 suitcases. Also there are is watertight, indestructible and resistant to the corrosion, and dog sees used with foam or quilted splitters that guarantee the total protection of the equipment that contains. Detachable optional The small wheels of great resistance (two fixed and two rotatory ones) allow to move iteasily. Also it dog sees transported by means of two great lateral handles. To nylon strap, mounting plates and to nylon stock market plows included in kit of mobility. This suitcase incorporates the metallic reinforcements for the orifices of the padlock. Now, thanks to the new cubical suitcases will sees able to fit their square equipment (square monitors of to computer, televisionsets, equipment, etc.) and to maintain totally surrounded them and protected.

Unconditional guarantee.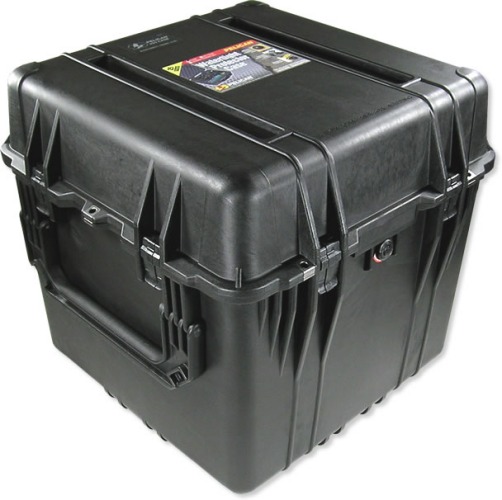 | | |
| --- | --- |
| | CHARACTERISTICS |
SCOPE OF TEMPERATURES
MINIM

-23ºC

PRINCIPLE

99ºC

DIMENSIONS
INTERIORS

61,0 cm x 61,0 cm x 61,0 cm

EXTERIORS

with wheels:

67,3 cm x 67,3 cm x 68,1 cm

without wheels:

67,3 cm x 67,3 cm x 64,1 cm

DEPTH COVERS

DEPTH SUITCASE
WEIGHT
Nor Without wheels it foams: 14,5 kg
With foam: 18,6 kg
With wheels and it foams: 20,4 kg
BOUYANCY
Salt to water fleet with to load of 211,0 kg.
ACCESSORIES
#0371 spare part foam Game (5 pieces)
#0375 Game of quilted splitters
#0379 Organizing to cover
#0357 Kit of mobility
HOMOLOGATIONS
- Certification STANAG 4280 - DEF STAN 81-41. It pleases to U.S. to communicate to him that all our suitcases (except for the range Micro of You marry) have successfully surpassed to diver extremely demanding tests of vibration, losses temperatures, dry heat and impact. Inaddition, all our suitcases count on the certification of Norms STANAG4280- DEF STAN 81-41. In order to obtain dwells data, his distributor or to supplier póngase in contact with.
- IP57 (Ingress Protection, index 57).