WOUXUN KG679E 8S
WOUXUN KG679E 8S SCRAMBLER, 128 CHANNELS AND MEMORY. Power 5 WATTS!
Single frequency display.
Equipped with 8 sets of encryption codes (8 scrambler), that let you get a lot of privacy in conversations.
1 / 5 W Power
1700 mAh Lithium Battery
PC programmable
128 Memories
VOX Hands free System
Voice Encryption for private conversations
Frequency Steps 5K / 6.25K / 10K / 12.5K / 25K
ANI Code: automatic number identification
50 CTCSS subtones and DCS codes
Backlight adjustable in 3 different colours


8 sets of voice encryption code for private conversations, you can select the appropriate frequency and undertone, but also have the ability to encrypt the voice using 8 different codes (the effect produced is the distortion of sound so no one without an identical handheld with the same codes will be able to understand the conversation).

Includes FM receiver to listen to your favourite radio station.
While listening to FM radio, if you receive a call the handheld jumps automatically to walkie mode to be able to listen and talk.

Kit contents
1 WOUXUN KG679E 8S (8 encryption codes)
1 1700 mAh 7.4 V. Lithium battery
1 Earphone KEP 19 K
1 Cigarette-lighter adapter
1 Leather case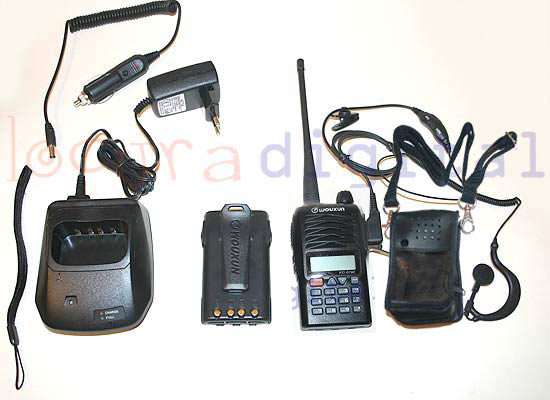 Features
VHF
Inspection, monitor, stun, kill and emergency alarm
DTMF encoding and DTMF decoding
Digital tune FM radio (can display frequency)
Output power VHF 5W/1W
High / Low power can changeable in temporary
VOX (Level adjustable)
105 groups DCS / 50 groups CTCSS
DCS / CTCSS of RX and TX Can set individual
Allcall, groupCALL and selectcall
ANI (Caller ID)
8 Scrambler available
128 memory channels
Channel name edit available
Voice guide (English / Chinese)
Channel steps (5K / 6.25K / 10K / 12.5K / 25K)
Wide / Narrow bandwidth selection (12.5KHz / 25KHz)
Three colour LCD backlight display
Come with 1700mAh Li-ion battery and intelligent charger
Frequency / Channel / Frequency + Channel display mode
Multi scan mode (TO / CO / SE)
Calling ring function
Distant alarm
Keyboard lock (Auto / Manual)
Reverse frequency function
Busy channel lockout
Programmable by computer
Input frequency by using keypad
PC software disable input frequency
Side key programmable
Menu / Channel reset
Wireclone function