The PF2 SILVER is the great compatible version of for support PF1 all the screens of 60¨ and upwards. Using the same system of installation that the PF1. For This designed to serve the screens of but under large and weight of the market.

PRICE QUALITY THE BEST ONE.

Ref: 2 PF SILVER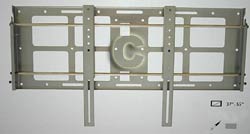 CHARACTERISTICS:
Universal support for 60 " screens upwards
System of grooves and bars allows an installation fast and easy.
The back plate offers multitude of fixation points to assure the safe installation in ace much walls brick ace walls of pladur
It eleven there are an installed insurance.
Innovating design assures that it adapts to the 100% of screens.
Construction of ductile steel to assure the FORCE and durability RAWPF2 SILVER Capacity weight: 100kg. Support of wall for plasma screens of 55 inches to 65 inches. Easy Robust and installation.