MVISION MV-8085 USB CONAX, RECEIVER OF SATELITE + Pendrive 1 Gb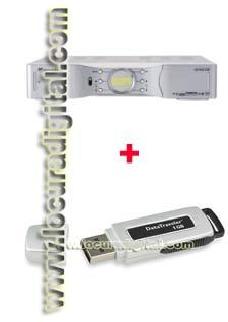 The new range MV emphasizes by the possibility of recording through port USB 2,0 to a external hard disk. With this wonderful receiver you will have all the possibilities of its brother FS 8085 and in addition you will be able to record in a external hard disk the programs that you like more.

It has an entrance USB, so that the user will be able to choose in what storage device wants to record its contents multimedia. Such devices will be connected to port USB, and could be from memories USB to hard disks of high capacity. The duration of the recordings will be limited by the hard disk of the user; to more capacity, more hours of recording.
It includes:
- 1 Receiver MV 8085 USB CONAX
- 1 Control at a distance
- 2 Pilas
- 1 Pendrive 1 Gb
- 1 Manual multi-language
- Cables of connection
MAIN CHARACTERISTICS
- Totalmente compatible with MPEG2 and DVB.
- Control of Band C/KU for each entrance of antena
- Conmutación of LNB tone 22KHz, On/Off (encendido/apagado)
- Multi-LNB controlled by DiSEqC 1,2 and USALS
- Memoriza up to 5000 canales
-automatic Conversión PAUNTSC
- Búsqueda Automatic for new added transponders (Search in Red)
- Búsqueda Automatic of channels and to move canales
- PIG (Image in gráficos)
- Software simple and fast updateable by port RS-232
- Teletexto and subtítulos
- EPG (Guide of Electrónico) Programs
- colores Supports 256
- USB 2,0 compliant for fulland low speed