KENWOOD TK 3160 E3 + BATTERY CHARGER KNB35 + KSC25
KENWOOD TK 3160E 3 KIT + KNB35 PROFESSIONAL USE WALKIE 406-430 MHz UHF 16 CHANNELS PROGRAMMABLE PC
Portable UHF 406 to 430 MHz, with 1950 mAH lithium battery charger KNB35 + KSC25, priority scan, VOX, voice segrafonia for investment included, 12.5-25 kHz spacing, IP 54/55 and MIL-STD 810/C/D / E / F, indication of voice channel, belt clip, antenna, lone worker.
! It is necessary to attach the client to enter frequencies in Walkie!
Includes:
KENWOOD TK 3160 E3 +1 KNB LITHIUM BATTERY CHARGER QUICK 35 + 1 ANTENNA KSC25 + 1 + 1 CLIP BELT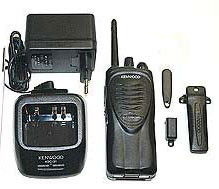 Leading the way with a compact, simple and reliable, portable terminals TK-2160/3160 Kenwood
represent a new milestone in terms of performance. With features such as scanning, VOX, Voice Scramblers resistance to inclement weather, to meet MIL-STD & IP 55, terminals Series prepared to withstand rain, dust and high temperature performance is paramount.
COMPACT DESIGN
Compact enough to carry anywhere easily, this smart transceiver has a form is distinctly ergonomic and easy to use run.
EASE OF USE
The knobs and keys TK-2160/3160
are designed to offer the user a response intuitive to use even if the terminal is transported in a pocket or is operated from a holster.
INTERNAL VOX READY FOR HANDS FREE
Enjoy the convenience of a hand operation
free using optional headphones as the KHS-21. Simply speaking, the VOX system (with voice transmission) procedure, with adjustment sensitivity of 10 levels, performs the action of TTP. The VOX system is also ideal for events and specialized work tasks where necessary handsfree communications, constant and / or repetitive.
SCANNER
The search function that provides the scanner offers a simple way to monitor multiple channels (until 16). The 160 series terminals allow the mode standard tracking and priority. The role of Response can respond immediately to a incoming call without having to change or seek channels manually.
VOICE ENCODER BUILT
(Scrambler)
The TK-2160/3160 includes an investment mode voice, which provides communications security basic against eavesdropping.
IDENTIFICATION FleetSync% u2122 PTT CALL
SELECTIVE AND EMERGENCY
Using the digital signaling protocol FleetSync% u2122 Kenwood, has the capacity TK-2160/3160 PTT ID (ANI: automatic identification of number). Selective call for offers management operations transmissions. For environments hostile / hazardous, the orange key can also programmed for the state to alert the Emergency transmitter and / or operator who is in danger.
DMS (Digital Message System)
FleetSync has been renamed.
PROGRAMMABLE FUNCTION KEYS
The three side buttons can be programmed to any of the many functions available on the TK-2160/3160 allowing for custom use specific users (including the orange key).
QT/DQT/DTMF/5 TONES
The tone squelch formats / standard codes
Industry QT (CTCSS) and DQT (digital) provide access the system and separation of groups in frequency shared. It includes identifying DTMF PTT for transmission operations or for a simple application remote control. Decoding capabilities DTMF Caller ID include a selective Repeat with ID and call groups u201Ccomod?% u201D. The TK-2160/3160 also equipped with encoding and decoding ability in 5 colors to use selective call. All formats Selective Calling (FleetSync% u2122, DTMF and 5-tone) are call alert tones and LED indications. Through of different signs is possible to confirm the coverage of a particular terminal, as well as blocking or remotely unlock the functioning of terminals, thus preventing the misuse of them.
CALL ALERT TONES
PROGRAMMABLE
The type, duration, pitch and volume of call alert program leads to a call alerts Selective distinctive and personalized.
HIGH QUALITY AUDIO 500 MW
Carries a clear audio communications trust. The nature of his powerful speaker 500 MW and provide personalized audio response optimum audio even in noisy environments.
BATTERY PACKS OF 8 TO 12 HOURS
The pack of 8 hours Ni-Cd battery (KNB-25 *) is the basic format
portable terminal series 160. The pack of 9 hour Li-Ion (KNB-24 *) provides the ultimate in comfort Thanks to its small size and weight. For maximum autonomous operation, the pack of 12 hours Ni-Mh (KNB-26 *) is the choice with more energy because the offering high capacity.
* The battery life is based on duty cycles of 5%
5% transmission% u2013% u2013 Receive 90% standby.
ROBUST AND RESISTANT TO DUST AND WATER
IP 54/55
With a compact and robust construction designed to withstand rough treatment, the 160 series has exceeded advanced and stringent tests for resistance to dust and water of IP law, serving not only the IP-54 but obtaining higher IP-55 certification, and exceed eleven other stringent standards environmental MIL-STD 810 C /"0/ E / F /. This shows that in any weather conditions, the TK-2160/3160 is ready to ensure the communication.
OPTIONAL PLATES
Despite its compact design, the
TK-2160/3160 terminals are prepared to include