IKUSI MAW-200
IKUSI MAW-200 Multiband VHF / UHF TV modulator. Easy programming. With display.
The video signal modulator is based on its operation: converting the video signal to a UHF conventional TV channel and then sending it along with other different signals through the same coaxial cable.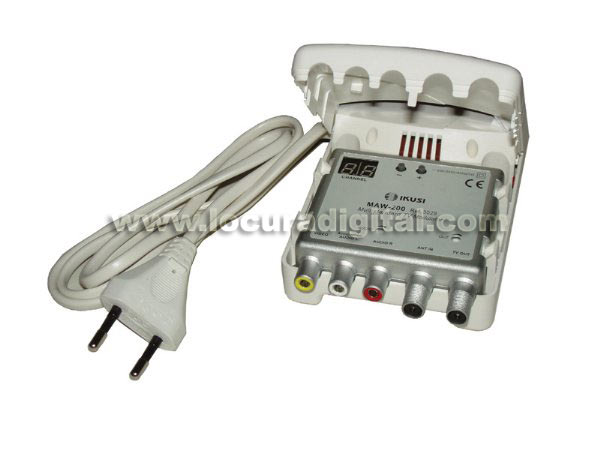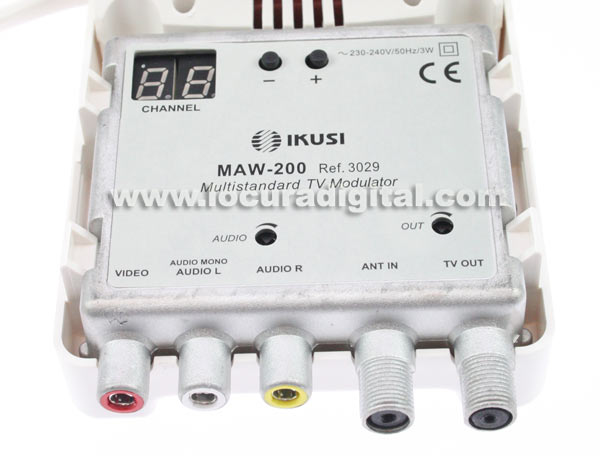 Features
Appropriate use with TV satellite receivers, VCR's and video cameras.
Direct video/audio modulation. Multistandard. Mono sound. DSB (Double Side-Band) TV output channel.
Agile selection of channel. Possibility of shifting the standard video carrier frequency up to ±2.5 MHz.
Possible connection of stereo sound sources. L and R signals are summed.
Built-in test pattern generator.
Two buttons and one 2-digit LED display for selection and programming of operating parameters.
Panel potentiometers for audio modulation and RF output level settings.
Input port for RF coupling of antenna/SMATV signal.
External plastic box. Indoor mounting. Wall fixing by two screws.
Mains lead with bipolar plug. AC power indicator.