BTX1 SINGLE PILOT
With Universal Intercom function can be matched with any telephone or intercom system any brand.
Midland BTX1 if combined with remote control Bluetooth ® Midland BT Remote can be managed directly from the handlebars of the bike without cables or distractions.
BTX1 be combined with G8BT Midland to talk with unlimited users up to 12 km away.
Music stereo buttons Play / Pause -Adelantar/Atrás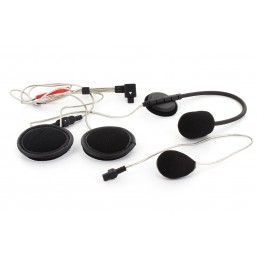 Waterproof (Water)
Bluetooth Wireless Technology 3.0 with DSP
Vox voice activation for intercom operation or answer the phone (handsfree)
Technology AG C for automatic volume control
calitad Optimal audio at high speed (DSP technology)
Battery Autonomy: 10 hours talk time
Programmable via USB (and configure the device firmware update)
Voice messages: provides voice message on the device status and battery
Aerodynamic design, only 18 mm thick
Compatible with all types of helmets
Bluetooth ® Connections: Móviles/Mp3 Phones with Bluetooth
GPS Device (Background function to keep the audio GPS in the background while you talk)
gifted Bluetooth PMR446 Radio
Connections between device driver and passenger:
iPod/MP3 player stereo
PMR446 Radio
Manual Controls: telephone, intercom, FM radio activation and connection cable% uFEFF
All our BT's include the following accessories: 2 types of interchangeable microphones (wire and rod), 2 types of support (clamp and adhesive), audio kit with speakers ultra-thin and charger.% uFEFF