X TERRA 705 GOLD
X TERRA 705 GOLD Minelab X-TERRA 705 metal detector GOLD
GOLD SPECIAL


A great team performance lauded throughout Europe and a price very interesting.

Digital Detector tegnologia VFLEX, discrimination for 28 segments and numerical and tones. Ground Balance manual and automatic light on the screen. Great depth and accurate discrimination.

Packed with features such as Earth Balance Automatic, continuous detection of ground segments discrimination, Iron Mask, Mode Localization and detection modes.

From beaches goldfields with accuracy and precision."0detector intuitive, easily removes junk and identify objects. Lit screen. You can configure your own detection modes. With 25 cm dish. DD of 7.5 kHz.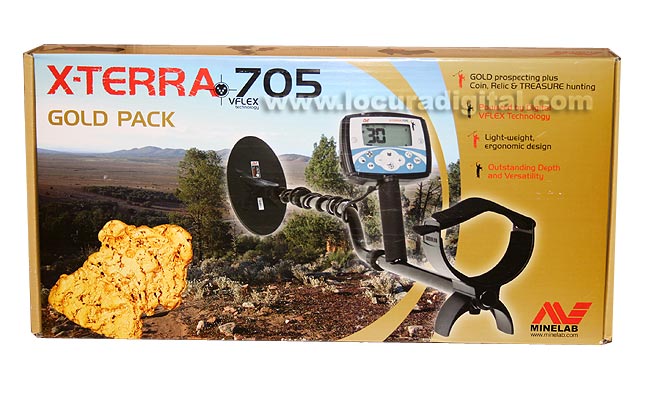 With three frequencies for different dishes 3kHz, 7.5 kHz and 1B, 75kHz, to find Relics, Coins and Gold VFLEX emphasizes its new technology, digital signal processing with highly calibrated analog circuits creating a new class of single frequency detectors."0detector with higher sensitivity and higher immunity to electromagnetic interference, with higher resolution in the identification of objects, even with the deepest.
Kit Contents
Minelab X-Terra 705
4 alkaline batteries
Manual in Spanish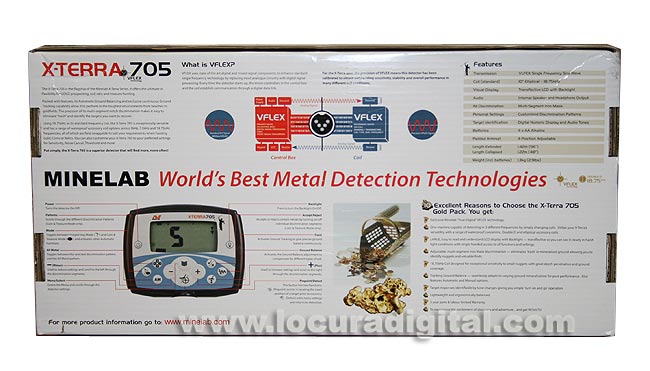 Features
Technical
Transmission Technology VFLEX single frequency sine wave
Options dishes 3: standard 7.5 kHz, 3 kHz low, high 18.75 kHz) new
detection modes and Relics Coins, Gold Prospecting new
earth balance modes 2: Average . New beach Saltwater
adjustment modes Manua ground balance Auto, Tracking new
Numeric object id on screen and tone
acoustic object ID Selectable: 1, 2.3, or multi-tone new
new YES tone background
Discrimination 28 positions (Accept / Reject) new
Iron Mask (survey mode)
Patterns of discrimination 3 + All new metals
Custom Set Patterns of discrimination and personal modes
Maximum Depth
depth indicators 5
Manual sensitivity settings ( 1-30) New
noise cancellation Adjust 5 (-2, -1,0,1,2). New car
Exact Location Audio and visual static unmodulated
Volume Adjustment 0-30
YES lightly loaded Notice
LCD
Audio Speaker and headphone
Search Mode Movement
Batteries 4 x AA or (NiMH / NiCad)
Armrest 4 positions with adjustable strap
Maximum length 1.42 m.
undeployed length 1.22 m.
1.3 kg Weight with Batteries
Accessories Headsets, cover plate, cover and short bar