LOBO GOLD SPECIAL SUPER TRAC

Specially designed to prospect for gold nuggets, but with all the capabilities of a treasure: a true SUV.
TESORO TESORO LOBO exclusive metal detector to detect natural gold
No other detector is fast, accurate and reliable in normal and severe soils. No matter where you are looking for: the Wolf instantly adjusts itself to eliminate the effects of ground mineralization. Impressive discrimination ability, and the three options superprácticas land adjustment. The electronics are removable to take in the waist.
Only field. Elliptical dish comes with 25 x 13 cm. and its sheath.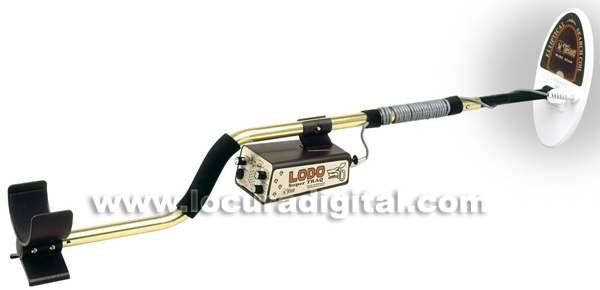 Where the best detectors fail, when iron with valuable metals that can be mapped and emit no signal, TREASURE find everything. They are the best Coin Battle.
Discrimination, sensitivity adjustment, tone adjustment threshold. No-motion mode. Three possible options for setting ground effects. Electronics box removable waist. Amplifier sensitivity MAXboost. Wide Scan Elliptical Dish 25 x 13 cm. Cover.
Features
Operating Frequency 17.8 kHz
Widescan elliptical coil type,
size coil 10 "elliptical (length)
Cable length Approx. 8 '
Audio Frequency Approx. 330 Hz to 550 Hz
Audio Output 1 ½ "speaker and headphone jack
Headset Compatibility ¼" stereo plug
Weight (may vary slightly) 3.5 lbs
Battery Requirement Eight AA cells (alkaline)
Battery (typical) 20 to 30 hours
Optimal temperature. Range 30 ° to 100 ° F
Humidity optimum 0-75% RH
Operating Modes
All metals (motion required)
Search Discriminate silence
All metal tuning mode Quick Auto
Determining how not- Motion All Metal (no Auto Tune)