YAESU STANDARD HORIZON VM-3500E
YAESU STANDARD HORIZON VM-3500E Marine Radio
A professional standard fixed mount DSC radio with a huge, bold display and inbuilt 30W loudhailer. Customisable channel naming allows you to easily change the channel name for greater ease of use and better channel recognition. Position, date, and time are also displayed when interfaced with a GPS receiver.
Digital Selective Calling complying with Class-D (EN301-025).
The large 56mm internal speaker is loud enough to be heard over engine and background noise.
Select any of the channels you would like to scan with the press of a button. Select Dual Watch to scan your selected channel and channel 16 simultaneously. Similar to Dual Watch, Priority Scan allows scanning of more than one channel with Channel 16.
When interfaced with a GPS, your position is displayed on the LCD. This makes sharing position information with other vessels or the coast guard simple if you run into an emergency. Speed Over Ground and Course Over Ground are also displayed to help keep you on track. The dedicated DSC Distress button automatically transmits a DSC distress call to all DSC equipped vessels within your VHF range. When interfaced with a GPS your position is also transmitted to assist the rescue services.
Easily share position information with other DSC equipped vessels using the position request and position sharing functions. With the push of a few buttons you can request the position of another vessel, or simply send your position information to the vessel you select.
The GX3000E includes an inbuilt 30W loudhailer which allows you to "listen back" and includes four foghorn tones, sirens, horns and other tones.
Connect the optional CMP25B remote fistmike or VH-310 remote handset to have a full functioning second station. All of the features of the main radio can be accessed through the second stations.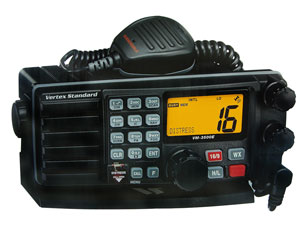 Kit contents
1 VM-3500E Marine Radio
1 Microphone
linea 3
1 Radio Mounting bracket
1 Microphone Mounting bracket
1 User's manual in english and spanish