ref: GX1500BLACKKIT1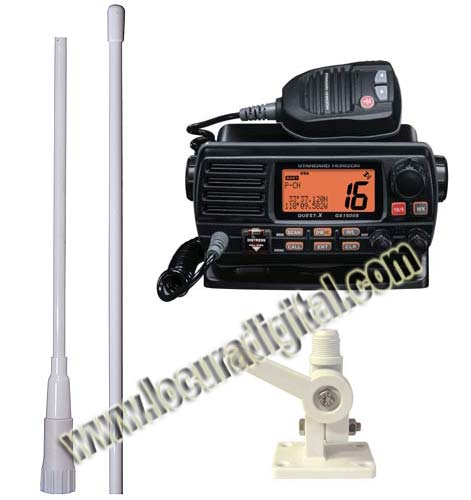 YAESU GX 1500E Standard Horizon. Issuing Nautica + Stands RM1 + Aerial MFV 5.
Joins quality assembly fixed DSC radium VHF with a big screen daring of give him all the information that needs to the scope of his hands. Personalizable canal of names him allows change easily the name of the canal for a bigger ease of use and a better canal recognition. Position the date and the hour also one is shown when one link with a receiving GPS.
Select anyone of the canals that wants scan with the press of a button. Select Dual Watch to analyse his canal selected and canal 16 simultaneously. Similar to Dual Watch Priority Scan allows the exploration of more than a canal with the canal 16.
When one link with a GPS his position one is shown in the screen LCD. This position makes that share information with other ships or of the guard coastal easy if one have an emergency. Speed on earth and Course on earth also are shown so one keep in march. The button dedicated of application of aid DSC DSC automatically transmits a call from help to all the ships equipped with DSC VHF in his range. When one link with the position GPS is transmitted also to help to the services of ransom.
Share easily the information about position with other ships equipped with DSC using the application of position and the position of share functions. With the push of some few bellboys can ask the position of other ship or simply send the information about his position to the ship that has selected.
Connects the lead remote optional CMP25B or fistmike VH 310 remote earphone to have a functioning full second season. All the characteristic of the main radio stations of radium one can accede through the seasons of the second.
Includes:
- 1 Issuing nautica
- 1 Microfono hand
- 1 Cable food
- 1 Support stops radio station
- 1 Support stops the mike
- Game of screws stops the assembly
- Manual of instructions in Spanish and groins.

CARACTERISTICAS MAIN:
LCD Alfanumerico
Resistant to the water
Construccion robust kind professional grade ITU Class"0DSC VHF
Includes receiving independent of the canal 70 for listening on signals DSC
Connection optional of a second microphone of control
Systemizes intercom between the team main and the second microphone.
Functions of requirement and shipment of signal DSC compatible with the GPS Chart Ploters STANDARD HORIZON (GPS Charts concartas marines/ maps )
Function of Scanner programmable by user, scanner of priority or double listens
Bellboy of short cut to canals 16 and 9
Send of canals kind dial rotating sobredimensionado, keys and screen Illuminated information in screen on the Navigation when connect that GPS optional.