ref: GX1500WHITE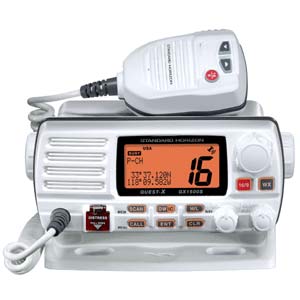 YAESU Standard GX-1500e Hoirzon. Nautica Transmitter
A quality fixed assembly DSC VHF radio with a greataudacious screen to give all the information him that needs within reach of its hands. personalizeable channel of names allows to easily change to the name of the channel for a greater ease of use anda better channel him of recognition. Position, the date and the hour also is when they tie with a receiver GPS.
Select anyone of the channels that wish to scan with the press of a button. Select Dual Watch to analyze his selected channel and channel 16 simultaneously. Similar to Dual Watch, Priority Scan allows the exploration of more of a channel with channel16.
When they tie with a GPS, its position is in screen LCD. This position does that to share information with other ships orof the simple coastal guard if they have an emergency. Speed on earth and Course on earth also is shown so that it stays in march. The dedicated button of request of aid DSC DSC automatically transmits a distress signal to all the ships equipped with VHF DSC within its range. When they tie with position GPS is also transmitted to help the services of rescue.
To share easily the information of position with other ships equipped with DSC being used the request of position and the position to share functions. With the push of few bellboys it can ask for the position of another ship, or simply send the information of his position to the ship that it has selected.
At a distance connect control optional CMP25B or auricularfistmike remote VH-310 to have a total operation second station. All the characteristics of the main radio transmitters can be acceded through the stations of second.
It includes:
- 1 nautica Transmitter
- 1 Microfono of hand
- 1 Cable feeding
- 1 Support for transmitter
- 1 Support for micro
- Game of screws for the assembly
- Manual in Spanish and ingles.

BASIC CHARACTERISTICSES:
LCD Alfanumerico
Resistant to the water
Robust construction professional type degree ITU VHF Class"0DSC
It includes independent receiver of channel 70 for listening of signals DSC
Optional connection of a second microphone of control
System intercom between the main equipment and the second microphone.
functions of requirement and shipment of compatible signal DSC with the GPS Chart STANDARD Ploters HORIZON (Graphical GPS concartas marinas/mapas)
Function of programmable Escáner by user, to escáner of priority or the double listening
Bellboys of direct access to channels 16 and 9
Control of channels type sobredetermine the proportionsrotatory dial, Illuminated keys and screen information in screen on Navigation when we connected the optional GPS.