| | |
| --- | --- |
| | DESCRIPTION OF THE PRODUCT |

Professional, for ideal Walkies communications that require stop redimiento, reliability and robustness.
Portable for Transceiver radius of UHF PMR 446/FM you use without license. Standard Vertex VX-146 is the new model of the high range of Standard Vertex destined for Europe. to designed equipment

in order to support the most severe atmospheres in any situation, thanks to robust housing made in carbonate Poli. In its ace Officers' Club of Revolutionary Armed Forces you manufacture to special attention internal ace the protection of the electronics of the equipment you have been put, to under that
it there plows supported the continuous ones I touch and blows that habitually receive this type of equipment that is used actively in situations it jeopardize. Between its characteristics display LCD is included powerful and to clear retroiluminado. For Ace well ace 3 bellboys with functions programmed the control of the selective ringing, the blockade of the equipment and the illumination of display of the equipment. It incorporates to you complete system of signaling of CTCSS and DCS to avoid interferences.
It dog sees programmed to emit warning sound when to tone of CTCSS or a signal noticeable of to cover DCS begins to receive. The equipped equipment this with exclusively system ARTS (System to transponder of automatic rank), of Standard Vertex, that allows the to user to exactly know when this outside the effective rank of frequency with respect to other equipment transceivers also equipped with this system.
It includes:
> 1WALKIES
> 1 BATTERIES
> BATTERIES SHIPPER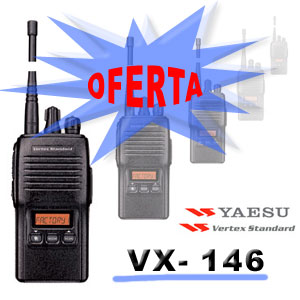 | | |
| --- | --- |
| | CHARACTERISTICS |
> Atmospheres ideal carries for Officers' Club of Revolutionary Armed Forces you uses and
> Alphanumeric Display LCD
> 16 channels
> Commutator Rotating with 16 positions
> Selective tones CTCSS and DCS
> Small, light and very resistant.
> Frequencies: 8 channels assigned in PMR446. 446.00625 ~ 446.09375 MHz
> Power output TX: 500mW ERP
> Duration of the battery: 10 hours using the FNB-64. (RX/TX/STBY 5/5/90)
> Size of the housing: 58 xs 120 xs 31 mm (wide x high x depth)
> Weight: Approximately 365 gr. (with FNB-64)
It is provided with battery FNB-64 (7.2 V 700 mAh Neither-CD) and with to shipper of table NC-77