GIFT PINGANILLO
YAESU VX351 Walkie Talkie PROFESSIONAL free use! - ¡¡¡NEW!
¡¡YA DISPONIBLE!

The new model Yaesu walkie talkie to come to market soon to confirm its presence, this model will have multiple features, which should highlight the strength and resistance based on the IP 55 and MIL standard 810 CDEF.
As a major innovation in the systems include a Yaesu ARTS system, this system is based on the coverage to other models.
Series VX-350 (VX-354 with screen and keyboard and basic Vx-351) are portable radios for use in radio communications of any kind. Its low weight and compact size for easy transport and use in professional applications. The high robustness (performance standards MIL 810 C,"C E) allow an intensive use in professional environments of high wear at the same time simplifying their management for use by non-specialist. Thanks to its battery included as standard equipment, high capacity 1800 mAh lithium ion, the team offers a broad operational autonomy than other models in the competition until 14 hours of continuous work without recharging cycle 5/5/90 .
Its 16 channels, 5W Power, 8-character LCD alphanumeric (version VX-354) and all sorts of possible signs (CTCSS, DCS and 5 multi-tone) Series VX-350 offers a wide variety of use networking professionals with diverse needs, from basic communication to more complex calls where caller ID, alarm signals, secrafon?low or high security, programmable function of "lone worker" and so on.

KEY FEATURES
* 8 channels PMR446
* 16 channels with rotational stop
* 2 programmable side buttons
* Connector accessories
* Button revolving selection of channels
* Power button and volume.
* Pushbutton PTT larger lateral
* LED tricolor
* Covers PVC resistant to adverse situations
* Tx battery saver
* Standard MIL 810 CDEF
* IP 55
* Channel Programmable
* CTCSS / DCS 50 and DCS codes 104
* Scanner
* ARTS (system of coverage)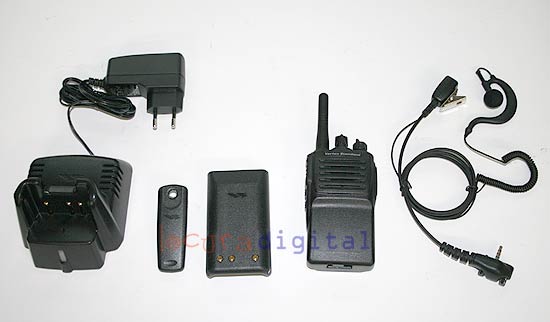 - 1 walkie talkie Yaesu VX-351E
- 1 Li-Ion Battery FNB-V95LI (7.4V 1800 mAh)
- 1 belt clip (CLIP-18)
- 1 Charger (42C-CD34 + PA)
- 1 MicroAuricular Pin-29-VX146