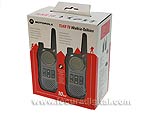 MOTOROLA TLKR T8, new model. WALKIE FREE USE, FREE USE WALKIE. ! NEW MODEL!. These small colorful radios are the essential accessory to make the most of everyday activities. Compatible Talkabout (T5022, T5412, T5422, T5522, T5532, T5622) and all models of PMR walkie free use.
With a high specification, robust yet easy to use, the new TLKRT8 offers all necessary functions for environments
demanding. Loaded with functionality that includes a range of up to 10km, a handy built-in LED flashlight and a cover resistant
splashes, T8 TLKR will keep you connected.
More information TLKR-T8 MOTOROLA <<<<< >>>>> click here

Features:
PMR446 Radios (no license required)
Up to 10km range
(Depending on terrain and conditions)
NiMH rechargeable batteries (included)
8 channels + 121 codes
Scanner and Monitor Functions
10 ringtones
Handsfree
LED Flashlight
Vibration alert
Splash
10km *