LAFAYETTE ATENA
FULL EQUIP!!
COMPLETE MOBILE RADIO WITH MAGNET ANTENNA.
ANTENNA GAIN CONTROL!!
Listen to your friends even though they are close to you
LAFAYETTE ATENA. Mobile radio CB 27 Mhz. AM/FM 4 Watts. Black Colour.
Lafayette presents its new 27 Mhz equipment, provided with an incredible dessign and an original ANTENNA GAIN CONTROL. With the antenna gain control we could adjust the power with what we want the signal to enter in our mobile radio, that way we will manage to listen the other radios although they are close to us.
On many occasions when two vehicles are so close and try to communicate with 27 Mhz radios, happens that no signal is received. With this radio this problem it is solved thanks to the antenna gain control. In a quick and easy way we could control the intensity of the signal that enters in our mobile radio and so we reach a perfect reception.
Important:
Complies with E24 rule that permits to install electronic equipments in public transport vehicles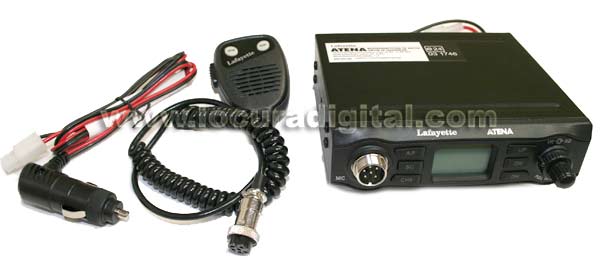 Kit Contents
1 LAFAYETTE ATENA mobile radio
1 Hand Microphone
1 Power cord with 12v cigarette lighter connector
1 Microphone bracket
1 Mobile radio bracket
1 Cobra HGA1500C Antenna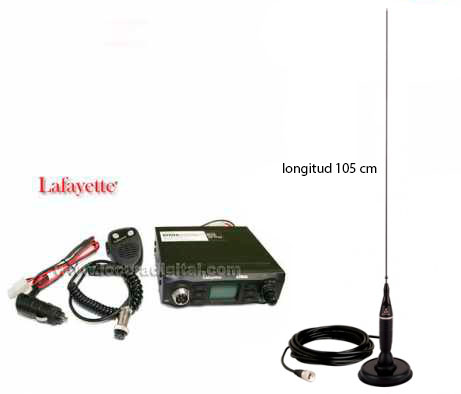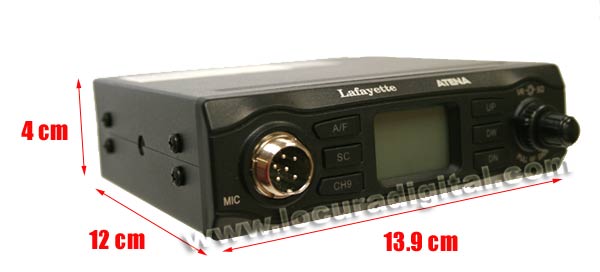 INCLUDES:
COBRA HGA 1500C. CB 27 Mhz Antenna, 105 cm
Power: 300 W
Impedance: 50 Ohms
Length: 105 cm
Cable length 4,5 mts. PL male connector
Weight: 220 g

- CB 27 Mhz mobile Antenna.
- Stainless steel Cone-shaped rib.
- 5/8 wave.
- Impedance 50 Ohm.
- Frequencies 26-28 Mhz.
- Polarization vertical.
- V.S.W.R. < 1.2:1.
- Max. Power 300 W.
- Length: 105 mm
- Weight: 220 g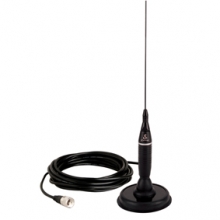 Features
Transmitter: PLL crystal Synthesizer
Receiver: superheterodyne double conversion system
Working power: 13,8 V DC
Temperature range: from -10º C to 50º C
Channel step: 10 Khz
Transmitter: Output power (4 watts AM / 4 watts FM)
Frequency range: 26.965 - 27.405 Mhz
Frequency tolerance: ( -) 500 Hz
Modulation sensibility: 6 mV (1.25 Khz. Input)
Modulation capacity: AM: 90% - FM: 2 Khz
Sensibility: AM: 0,5 ("uV") (s/n 10 Db) - FM: 0,3 ("uV") (sinad 12 dB)
Auto Squelch 0.3 ("uV")
Squelch: 0.5 ("uV") MAX
S/N ratio: 40 dB
Distortion: 5%
Max. Power: 4 watts