!! ESCANER CON SENSIBILIDAD EXPECTACULAR !!
TODA LA BANDA CONTINUA, PODRAS ESCUCHAR TODO, RADIO NORMAL Y FM, AUDIO TELEVISION, BOMBEROS, POLICIA, AVIACION
!! KIT COMPLETO 1 Escaner DJX7 E + bateria de litio EBP58N + 1 Cargador de bateria EDC 128 + 1 Auricular tipo boton + 1 Antena tipo SMA !!



ALINCO DJ X7E. Receptor scanner Extraplano. Cobertura continua banda corrida 100KHz a 1,3GHz 1000 memorias.Modos WFM, WFM estéreo y AM . Pequeño y de fácil manejo103gr. Bateria de litio. Tamaño tipo tarjeta de credito.
Tipo de modulación: AM, FM, W-FM
Dispone del nuevo paso 8,33 para aviacion.

Dispone Audio descrambler decoficador inversion analogica.
Pasos de frecuencias: 5/6.25/8.33/10/12.5/15/20/25/30/50/100/125/200kHz

Ver mas imagenes ALINCO DJX 7E hacer clic >>> aqui <<<

Incluye:
1 Escaner DJX7 E + bateria de litio EBP58N (3.7V 600mAh ) + 1 Cargador de bateria EDC 128 + 1 Auricular tipo boton + 1 Antena tipo SMA.
Dispone Audio descrambler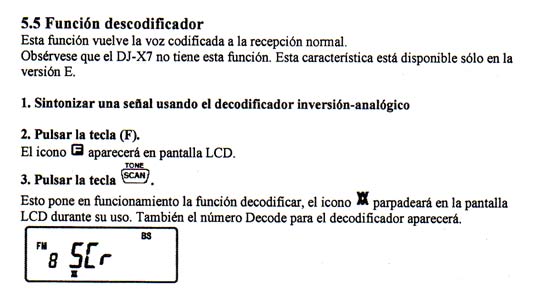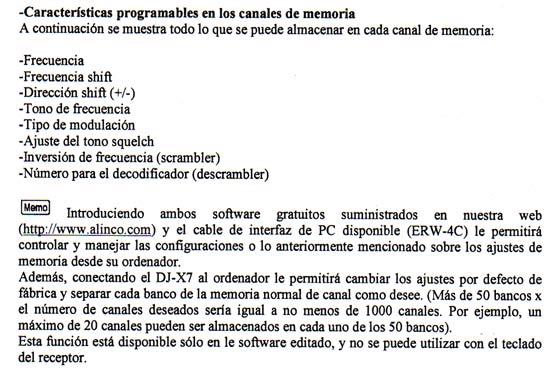 Welcome to DJ-X7 programming software download site.

Please be advised that this is a freeware (copy-right reserved by Alinco, Inc). Although we have tested this software on our Windows 95/98/NT/2000/XP environments and experienced no serious accident during the operation, we are not responsible of any eventual damage caused to your radio and/or PC system by using this utility. Sorry, please ask NO questions for how to use this utility; up-dates will be posted here as soon as it will be released. It is recommended that you remove the older version before you install the latest one in case of update. In case you find a bug, please report to export@alinco.co.jp specifying your OS.

This software enables you to program frequencies, set parameters and save it in your PC for any version of DJ-X7 (US, Europe and Japan). The 800MHz cellular band can't be modified by any means, and inversion scrambler decoder feature is blocked for the "T" model according to the U.S. legal requirements. By using this utility, the Preset mode (TV/FM/AM broadcasting) bands will be overwritten to the default data of the model chosen at the "model"check-circle on the Setting 1 tab. Please make sure to correctly choose the model of your own before writing data to your DJ-X7.

Bajar software programa para ordenador DJX7editor (2.47MB)

Please remember that you must have Alinco's optional ERW-4C computer interface cable in order to connect the unit to your PC."0simple connection cable may not work properly. The USB conversion cable may not work properly either, in this case please try the conversion cable of different makes or use the PC with a serial port on it.

To operate this software the DJ-X7 must be in the "CLONE" mode. Please refer the instruction manual p.35 for how to play with this software.

(Version update)
Please uninstall the older version from your PC before you install the new version. Current version is Ver 1.01 released August 2006. The V1.01 is only a minor bug-fix version so the update may not be necessary if the current utility you have is working fine.
Ver mas imagenes ALINCO DJX 7E hacer clic >>> aqui <<<