MFJ-226
MFJ covers resolution from 1 to 230 MHz, 1Hz.
Frequency sweep diagrams: SWR, Impedance, Resistance, Reactance, Phase angle, Complex return loss, Table Smith
Reactance sign
Amazing accuracy with OSL calibration (Open-Short-Load).
The new MFJ-226 introduces the advanced antenna analyzer series from MFJ Times Technology!
This innovative VNA antenna analyzer (MFJ-226 Antenna Expert) offers an OSL calibration and a real reactance that includes its signal from 1 MHz to 230 MHz with frequency resolution of 1 Hz.
Incredibly powerful MFJ-226 is the first and only VNA (Vector Network Analyzer) of low cost hand that presents an OSL calibration (open / short / load) with very high accuracy and a reactance sign to positively identify the inductive reactance or capacitive
These two characteristics, which are usually only found in laboratory instruments, place incredible diagnostic power in the palm of your hand.
With it, you will measure impedance and many other critical load parameters directly through a power line or test cable with exceptional accuracy, correcting line loss and phase angle.
S11 (Rectangular and Polar) Capacitance inductance Sweep frequency mode Generates, displays, captures accurate graphs as a function of the impedance frequency SWR (Z) Resistance (R) Reactance (X) Return loss (S11) Phase angle Diagram Smith Graph SmithChart shows S11 magnitude and the phase angle at any frequency interval you specify. 32 memories 32 memories allow you to capture screens made in the field to download them to your PC through the mini USB port for later storage and use. Store OSL calibrations You can run OSL calibrations through your test cable or power line or at different frequencies and store them for future use.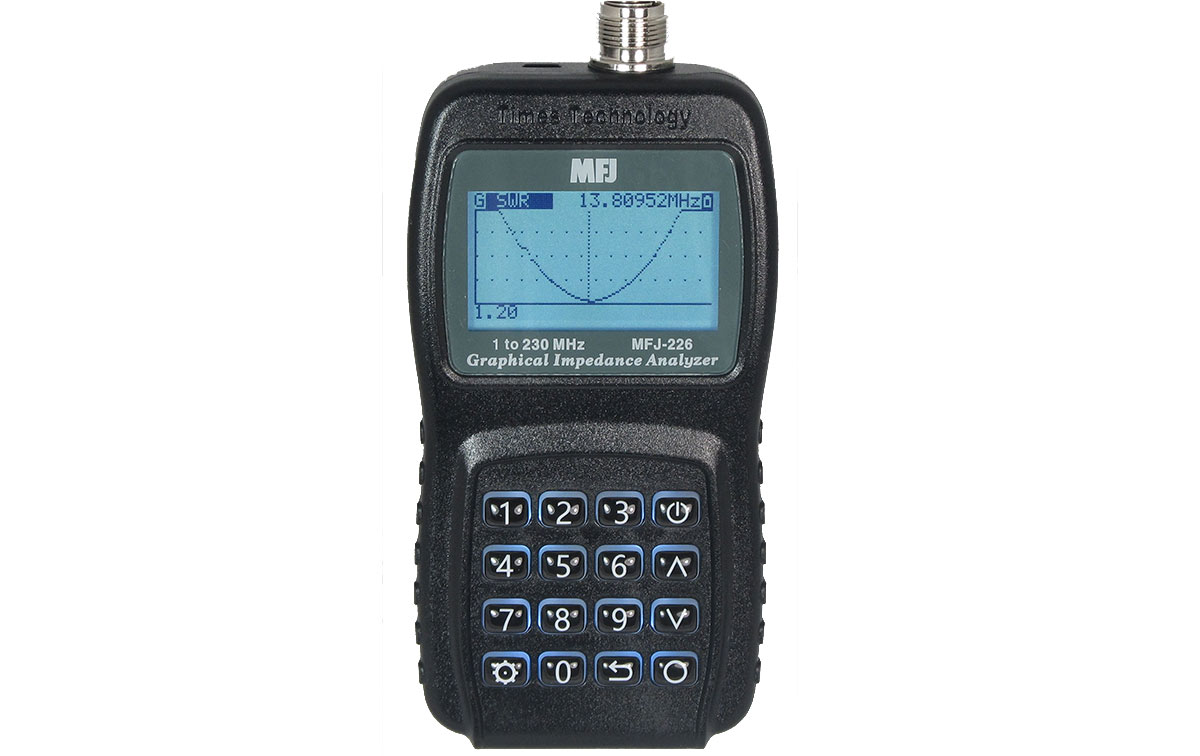 Contents of the kit
1 MFJ-226
1 USB cable to Micro-USB connector