1430-001-110 Suitcase of protection Black without foam
Resistant watertight to the water and to the dust, resistant to substances chemical and to the corrosion. On-line with the legendary suitcases PeliTM, the new 1430 estfabricada with a copolímero of polypropylene. Goes point out his ring of sealing of polymer that brings total estanqueidad to the water and to the dust, his valve of compensation automatic of the pressure in Gore Tex or his shutters of double action. The 1430 presents a unique design of load superior with a handle special of rubber molded to facilitate his transport. This new suitcase estpensada stops people who need protect a computer portable and other accessories from work important but also is good for protect teams during activities of spare time in outsides or even to border from boats.
Guarantee unconditional... forever.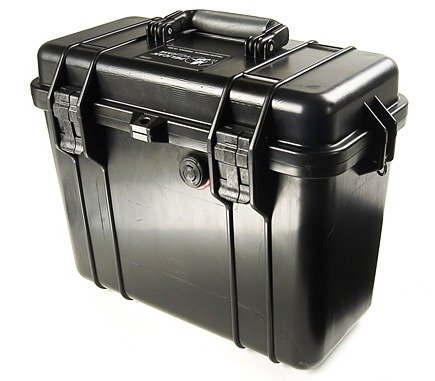 ENVIRONMENT OF TEMPERATURES
MINIMUM

-23ºC

MAXIM

+99ºC

SIZES
INSIDES

34,4 cm x 14,6 cm x 29,7 cm

OUTSIDES

43,0 cm x 24,4 cm x 34,1 cm

DEPTH COVERS

DEPTH SUITCASE
FLOATING
Fleet in water salted with a load of 26.8 kg.
WEIGHT
Without wheels: 2,5 Kg
With foam: 3,0 Kg
ACCESSORIES
#1431 Game of foams of supply (5 pieces )
#1435/#1436 Game of divisors padded
#1439 Organizing covers
#1438 Game of supports stops boat
Can ask a panel for applications special.
HOMOLOGATIONS
- Certification STANAG 4280- DEF STAN 81-41. Us pleases communicate it that all our suitcases (save the range of Mike Join) have surpassed with success several tests extremely exigent of vibration short temperatures heat dry and impact. Besides all our suitcases count on the certification of the Rules STANAG 4280- DEF STAN 81-41. To obtain more information puts one on contact with his distributor or supplier.