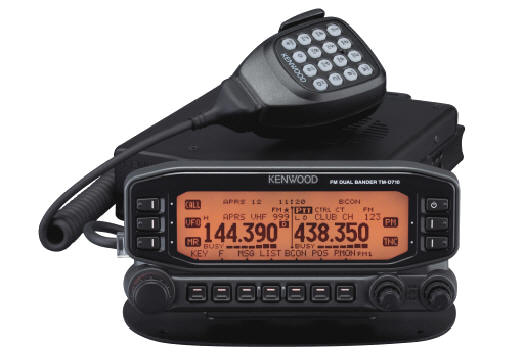 Ref: TM-D710E 144/430 MHz FM transceiver
The TM-
D710
E
has built-in 1200/9600 bps TNC
and
can
use different functions
APRS
the exchange of location, alphanumeric messages, weather and messaging without a PC
.

Now there are many features available
APRS
.
The TM-D710E has more than 60 menus to enjoy even more benefits
APRS
Includes instructions in English, French, Spanish, Italian, German
GREAT POWER TRANSMISSION (50 W)
The TM-D710E provides an impressive 50 W RF power (VHF and UHF), with a choice of high power, medium and low.
DUAL RECEIVE ON SAME BAND (VxV, UxU)
In addition to simultaneous receive on both VHF and UHF-band, this radio can receive two frequencies on the same band. This means, for example, can have the call channel and local channel, or the repeater channel and local channel in the same band.
PROGRAMMABLE MEMORY (FIVE IN ONE)
To provide additional versatility, the TM-D710E has a programmable memory to store five entire operating profiles, which can be retrieved instantly at the touch of a button. Each profile includes such settings as display mode, the frequency spectrum and mode memory. Also be used to switch between VFO five frequencies.
1000 MULTIFUNCTION MEMORY CHANNELS
There are 1,000 split memory channels for storing essential data such as transmission and reception frequencies, increased frequency and frequency of tones, plus an additional 10 for programmable scan. You can identify each channel with a maximum of six alphanumeric characters (Memory Name function). They can be edited and stored memory data to a PC via the programming interface cable optional PG-5G and the control software memory MCP-2A (which can be downloaded from the Web site of Kenwood).
In addition to the VFO scan, program scan, MHz scan of the memory scan and call scan, the TM-V71E offers memory bank scan: the thousand channels are grouped into ten banks for screening . Among the features are also the resumption of the examination (by time, operator and search), the blockade of memory channels, tone scan, CTCSS scan and DCS scan.
For convenience of installation, removable front panel can be rotated to mount the transceiver upside down, which will ensure that the speaker is not obstructed.
CHOICE OF 2 BACKLIGHT COLORS
To maximize visibility, large color LCD backlight can be switched between warm amber and cool green.
Digital Code Squelch (DCS) WITH CODE 104
Besides CTCSS (42 frequencies undertones), the TM-V71E is equipped for DCS (104 codes). Whichever source is chosen, the squelch will only open for reception if the speaker uses the same code.
EchoLink Sysop MODE FOR NODE TERMINAL OPERATION
is connected to a PC (which has installed the necessary software compatible with Windows) using the PG-5H accessory, can function as a node terminal for EchoLink. EchoLink connects radio amateurs through the Internet using VoIP technology: any transceiver with access to a node can connect to any other in the world, as long as it too has node access. It is also possible to access the EchoLink network directly from a PC.
To register for EchoLink (using your call identificaor), access the official Web site www.echolink.org.
EchoLink MEMORY (AUTO DIAL)
"0maximum of ten DTMF memory channels dedicated to EchoLink can store call signs (or conference names) and Node Numbers. The memory control is also possible via a PC with the MCP-2A.