Digital Insanity is not responsible for any changes that could be made in this paper and accepts no responsibility for it, warning that the handling equipment is not legal and the guarantee is completely lost.

New TM 281E Kenwood is built to be the perfect traveling companion. RF POWER OUTPUT HIGH. Despite its size, the TM 281E provides high RF power of 65 watts, and can choose High or Low output.
Kenwood introduces new FM mobile transceiver for use in marketing and
EU countries. Mobile Radio and powerful high performance. Output
high power, high quality audio, supported by the hardness of compliance
MIL STD standards that ensure high reliability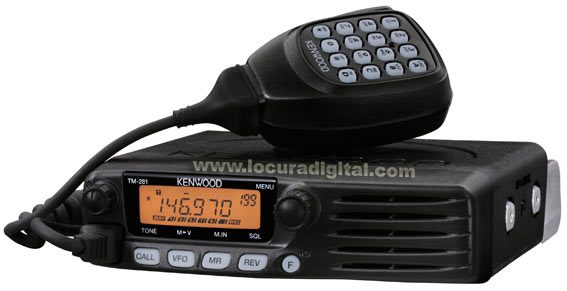 FEATURES
RF POWER OUTPUT HIGH (65W)
Despite its size, the TM 281E provides high RF power of 60 watts, and can choose High or Low output. It is supplied with a DTMF microphone.
??
E MARK OF EUROPE AND MIL STD 810 / C / D / E / F UNITED STATES


MIL STD Applicable
e
ALPHANUMERIC LCD DISPLAY AND KEYBOARD ILLUMINATED
Capable of displaying up to 6 large alphanumeric characters, green LCD screen positive rate is It presented with a 32 brightness control levels to suit all lighting conditions.
Similarly, microphone keypads and front panel are illuminated for ease of use. Note that the keys corresponding to the five most frequently used functions are arranged on the front panel for greater simplicity (can be accessed quickly to other functions through the menu.) TM 281E

MIL STD

810C Kenwood environmental responsibility for program management 810D

810E

810F EU RoHS directive.

Vibration

514.2 / VIII, X 514.3 / I

514.4 / I

514.5 / I
Impacts
516.1 / I, II, V 516.3 / I, IV 516.4 / I, IV
516.5 / I, IV comes standard search functions VFO, memory, call, tone /
CTCSS and DCS - with TO (maximum time), CO (carrier) and resumption of E MARK OF EUROPE AND MIL STD 810 / C / D / E / F UNITED STATES
Constructed of durable to withstand rough handling way, the TM 271E meets the stringent environmental standards MIL STD 810 C, D, E and F of the United States Department of Defense in categories such as vibration and Impacts. It also has certificate compliance with Directive 95/54 / EC (Automotive EMC) mode. Also included
MICROPHONE DTMF
The TM 281E is equipped with a DTMF microphone.

SPEAKER FRONT HIGH QUALITY
The large oval speaker (58mm x 35mm) mounted on the front panel provides excellent clarity.

Multiple search functions
For maximum versatility, the TM 281E offers several functions search, including VFO (band), all memories, programmed memory groups, called channels, CTCSS, DCS and priority, which checks a priority channel every 3 seconds. It also includes several ways to restart Search, CO (carrier) and TO (by time).
200 MEMORY CHANNELS PLUS 1 CALL CHANNEL
Each of the 200 memory channels can be used

storage, transmission frequency and independent reception.
Additionally, memory data can be edited and stored on a PC using the optional interface cable KPG 46 and Memory Control Software MCP 1A.

FUNCTION NAME IN MEMORY
You can quickly identify 100 memory channels thanks to 6 alphanumeric characters per channel. 200 channels if the function name is used.

Encoder / decoder CTCSS and DCS
built-in encoder / decoder CTCSS and DCS allows the operating frequency of the 42 CTCSS and 104 DCS sub tone frequencies.

High frequency stability
Thanks to the built-TCXO, frequency stability is ± 2,5ppm, higher than previous similar equipment (20/60)

Data Connector 1200 / 9600BPS
When connected to a TNC, can operate on data communication or high-speed 1200bps 9600bps.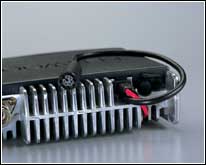 | | |
| --- | --- |
| | Message Commissioning |
| | Selection Wide / Narrow Deviation (per channel) |
| | 1750Hz tone generator |
| | Automatic Simplex Checker |
| | Automatic Repeater Shift |
| | Reverse Repeater Checker |
| | On / Off Audible warning |
| | Automatic Shutdown |
| | Timer Timeout |
| | Viewing in Channel Mode |
| | Busy Channel Lockout |
| | Memory Channel Lock |
| | Deviation MR |
| | Direct Frequency Entry |
| | Key Lock |
We invite you to that you read the following article by redlk2 on using the Kenwood radio 281 via EchoLink TM :
Locura Digital no se hace responsable de las modificaciones que se pudieran realizar en este artículo y declina toda responsabilidad sobre el mísmo, advirtiendo que la manipulación de equipos no es legal y se pierde la garantía por completo.
| | |
| --- | --- |
| | CARACTERÍSTICAS |
MIL STD Aplicabl

e

TM 281E

MIL STD
810C
810D
810E
810F
Vibraciones
514.2/VIII, X
514.3/I
514.4/I
514.5/I
Impactos
516.1/I, II, V
516.3/I, IV
516.4/I, IV
516.5/I, IV
E MARK DE EUROPA Y MIL STD 810/C/D/E/F DE LOS ESTADOS UNIDOS


Construido de forma resistente para soportar un trato brusco, el TM 271E cumple los estrictos estándares medioambientales MIL STD 810 C, D, E y F del Departamento de Defensa de los Estados Unidos en categorías como Vibraciones e Impactos. También cuenta con certificado de cumplimiento de la Directiva 95/54/CE (Automoción EMC)