| | |
| --- | --- |
| | DESCRIPTION OF THE PRODUCT |

YAESU VX 7R + FAST TABLECLOTH SHIPPER CD 1─
This kit podra to make slow loads with the shipper of wall NC 72C and fast loads with CD1─.
Fast CD1─ Shipper requires unit NC 72C

The VX-7R is a microtransceiver of three bands in FM with extensive cover of reception frequencies, which make available of the user the technology more outpost intwo-way communications by VHF and UHF between fans, on a par with a set of characteristics of unique monitoreo in its type.
The so large reduced one of the VX-7R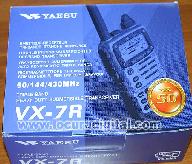 allows to take it him with himself to all parts: when it leaves excursion, to ski or when it goes of stroll by the city.

The functional flexibility of the transceiver offers to the user diverse routes to him so that it can enjoy all his possibilities totally.

Aside from the operation in alternative in the bands of 50, 144 and 430 MHz, the Unit with Sensor of optative Barometric Pressure measures the pressure and the height when a mountain climbs or goes on trip, and generates in addition Weather reports with the data collected during the measurement.
The section of the trasmisor provides an exit of clean power of 5 watts during the work in FM by the bands of 50, 144 and 430 MHz when the transceiver with the Battery FNB-80LI is used that is provided with the equipment, whereas MHz provides an exit of 0.3 watts in the one of 222, in addition to 1 watt of power output of carrier during the work in A.M. by the 50 band of MHz.
The VX-7R brings built-in two formats of signaling by tone, the CTCSS and the DCS, including the exclusive System of Transponder with Verification of Automatic Distance ARTS%u2122 of Yaesu, which generates "pitido" to notice the user to him when it has separated from the reach radius of another station also equipped with this type of signaling system.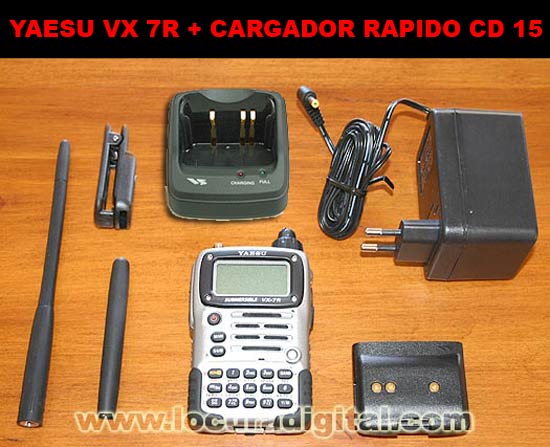 IT INCLUDES:
1 WALKIE YAESU VX 7 + 1 BATERIA OF LITIO7,4V/1400 mAH + 1 SLOW SHIPPER NC 72C + 1 FAST TABLECLOTH SHIPPER CD1─ 1 PAPER CLIP BELT + 1 STRAP OF HAND + 1 ANTENNA FOR VHF/UHF and 50MHZ. MANUAL + 1 CASTILIAN

TO SEE MANUAL IN PDF VX7R CLICK AQUI >>>>>>>
TO SEE MORE IMAGENES VX7R CLICK AQUI >>>>>>>
TO SEE the barometrico sensor is optional in VX 7R TO CLICK AQUI >>>>>>>
TO SEE video submerged in the water VX7)


- TOTAL Protection against the water, norm (JIS-7).
- 50/ 144/430 MHz:5 power w.
- RDUAL ecepciˇn: V-V/ U-U/ V-U/GEN-HAM.
- Cover of frequency in broadband, ideal for reception in HF, bands A.M. and FM, in addition to an ample variety of marine bands and services of public security.
- Batteries long play (of 5,5 to 15hours according to the band in which one works) and manifold power supplies.
- CTCSS/DCS including.
- ARTS%u2122.(Auto-Range Transponder System).
- Access fast to the WIRES%u2122 system through key Internet.
- indicating LED of estroboscopica function with 256 colors.
- Surprising Display with multitudeof referring lines of vision.
- 900 channels in memories.
- programmable Pre-ignition and extinguished.
- fast Click System of attachment to the belt.
- programmable Stroboscope.
- barˇmetrica Unit of optional pressure SU-1 with characteristic of atmospheric forecast. (Optional)