------- NOTE: DISCONTINUED BY WALKIE YAESU, REPLACED BY THE NEW IMPROVED VERSION: FT-270E ------

YAESU VX 170 KIT#A
SPECIAL OFFER!
A VX170 Walkie
1 FNB83 Batteries
A slow charger NC88C
1 Pinganillo
1 MICRO SPEAKER
1 Belt Clip
PORTABLE VHF (144-146 MHz)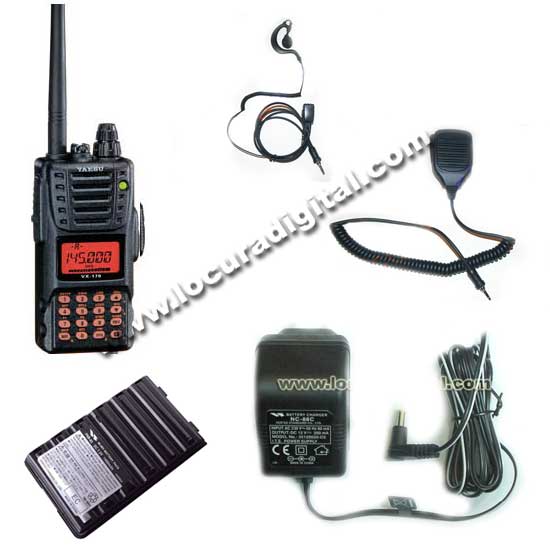 YAESU VX 170
! WATERPROOF!

The new VX-170 is a VHF handheld computer designed with the experience of previous models that have marked and are making a day of Radio FT-23 FT-10, VX-110. The VX-170 is a VHF handheld 5W whose high performance and extraordinary strength (submersible 1m for 30 minutes IPX-7 standard), ready to operate in all weather conditions no matter how adverse it may be, the most important technical features are: the ease of handling, powerful audio to improve listening in adverse weather conditions or noise of industrial machinery and high-capacity NiMH battery 7.2 mAh V/1.400 that allows the user to extend the talks without fear of "sudden shutdown" of the equipment.

Anyone, even without extensive knowledge of radio, you can just turn on and press the Talk button to communicate seamlessly. VX-170 also provides for more advanced users a large number of features that can adjust its internal menu, among them we can highlight, 200 alphanumeric memories, full 16-key keypad DTMF, CTCSS and DCS including SMART SEARCH search function automatic signals or the newest EAI system (Personal Emergency System).

In summary with VX-170 will have the opportunity to enter the world of Amateur Radio without major financial outlays.
INCLUDES: MICRO SPEAKER GIFT AND MIA-115VX7 PIN29VX7 Pinganillo
Yaesu VX-170 is a portable compact, high performance with 5 watts of RF power, with powerful audio output and unparalleled robustness and protection!


FEATURES
YAESU VX-170:
AMATEUR VHF PORTABLE
Frequency Range:
TX: 144-146 MHz (European)
RX: 137-174 MHz
Mode:
FM
RF Power Issue:
Max 5 W
Sensitivity:
0.2 micro volts to 12dB (140-150Mhz)
Selectivity:
12Khz/35Hz (-6Db/-60Db)
Voltage:
6-16 VDC External Jack
Consumption:
RX = 125mA (200mW Rx + audio)
RX = 45mA (Standby, Sleep)
TX = 1.5 Amp. (Power 5W)
Impedance:
50 ohms
Dimensions:
Width 60 x 120 High x 32 Fund
Weight: 390 grs FNB83 battery, belt clip and antenna
Others:
Dual watch. ARTS. +10 200 reports. Submersible