WOUXUN KG-UV2D KIT 1
WOUXUN KG-UV2D KIT 1 DUALBAND HANDHELD VHF/UHF NEW VERSION 2011!! + EARPHONE
NEW WOUXUN KG-UV2D DUALBAND HANDHELD VHF/UHF NEW VERSION 2011!! WITH DTMF AND SUBTONES SCANNER
SMA FEMALE CONNECTOR
EARPHONE FOR FREE!!!
PC PROGRAMMABLE
1700 mAh CAPACITY LITHIUM BATTERY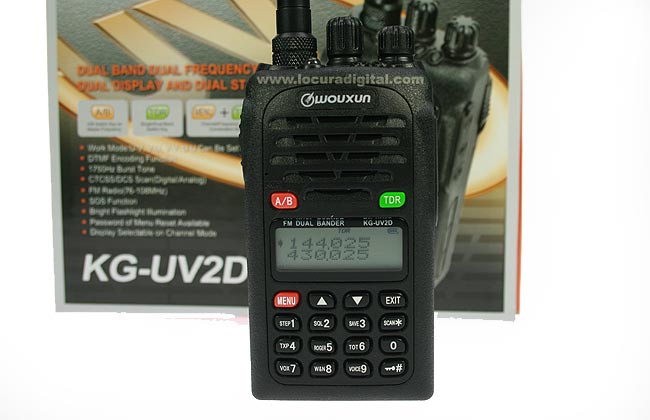 The kit includes:
1 KG-UV2D HANDHELD
1 INDIVIDUAL INTELLIGENT CHARGER
1 1700 mAh LITHIUM BATTERY
1 BELT CLIP
ANTENNA
EARPHONE PIN19K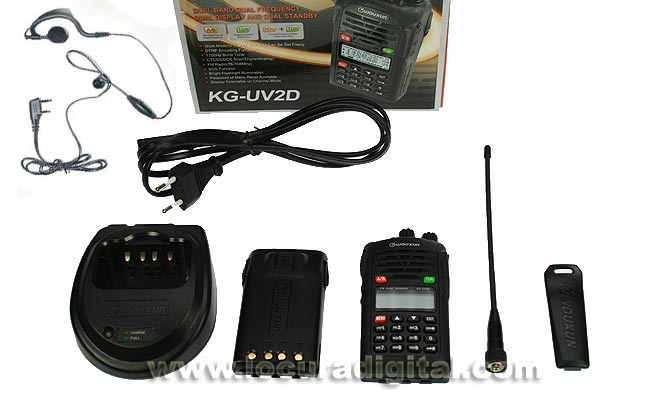 PC PROGRAMMABLE!!!
NOTE (Programming Cable is not included in the package)

New charger without transformer, valid to connect to 220 volts or 12 volts

Includes a FM receiver to listen to your favourite radio station.
Listening to the FM radio, if you receive a call, the walkie turns from FM radio mode to walkie mode.
Features
DUALBAND VHF/UHF
Dual Frequency, Dual Display and Dual Standby
Power 1 / 5 W
DTMF Encoding Function
CTCSS/DCS Scan(Digital/Analog)
Bright Flashlight Illumination Function
Voice Prompt (Chinese / English)
Digital FM radio (Automatic tuning and storing, radio frequency display)
High/Low power selection
Wide/Narrow Bandwidth selection (25KHz/12.5KHz)
Channel Name edit and display
105 groups D.C.S / 50 groups CTCSS
1700 mAh LITHIUM BATTERY
Low-voltage voice prompt
Keyboard lock (Auto/Manual)
Wire clone function
128 memory channels