Wouxun KG-UV8D2600
From Digital Madness we are pleased to be the first to introduce firsthand New Wouxun KG-UV8D a walkie talkie dual band (VHF-UHF) demonstrating that evolution This new model has been a success. Latest software version 1.05 !!!!. FULL DUPLEX
Special Kit with Lithium Battery 2600 mAh !!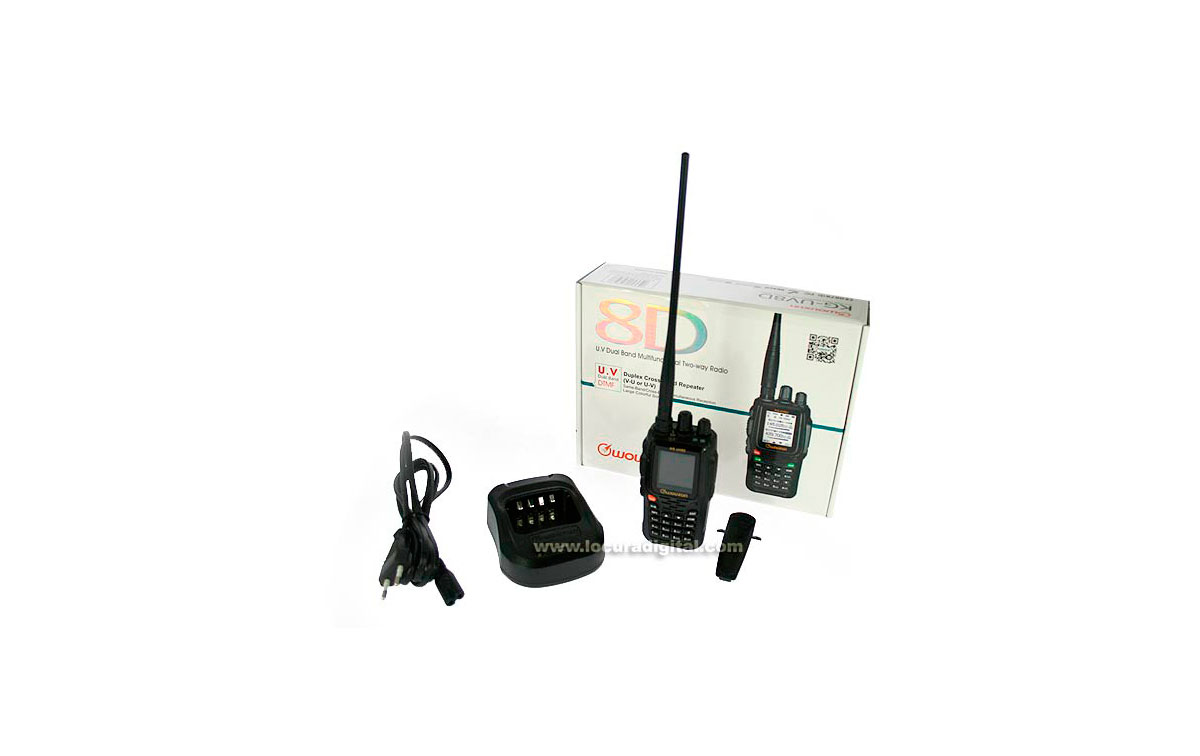 -.. GIFT PINGANILLO PIN-19K -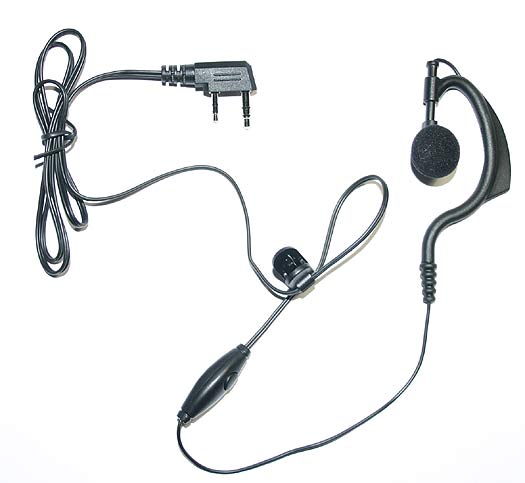 Among the improvements introduced the new Wouxun KG-UV8D on its predecessor KG-UV6D we highlight the following:
High Quality LCD Display
The new display High quality Wouxun KG-UV8D allow you to see very easily in the frequency / band in which you work and any options you have enabled via menu or PC
Hot Key function RPT
Activating the repeater your new Wouxun KG-UV8D now be as simple as pressing a button and start broadcasting.
direct function key display frequency 1
The new Wouxun KG-U8D gives the ability to display only a display frequency, thus facilitating the visualization and simplifying the data displayed on the LCD screen quality.
Channel Emergency function
Another new residents KG-UV8D is the ability to schedule an emergency channel, which you can use if necessary with the push of a button.
Antena longest
The antenna of the new Wouxun KG-UV8D also been redesigned to provide greater performance and range for this team.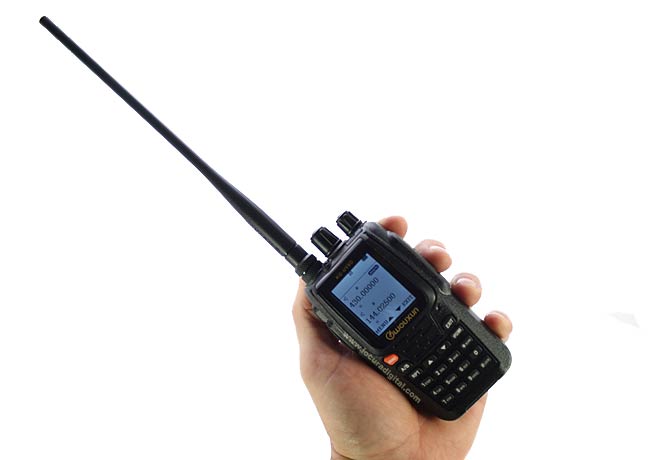 Kit Contents
1 Walkie talkie Wouxun KG-UV8D
1 Intelligent Single Charger
1 Battery 2600 mAh lithium
1 Clip Belt
1 Antenna for wouxun KG-UV8D
1 Pinganillo PIN19K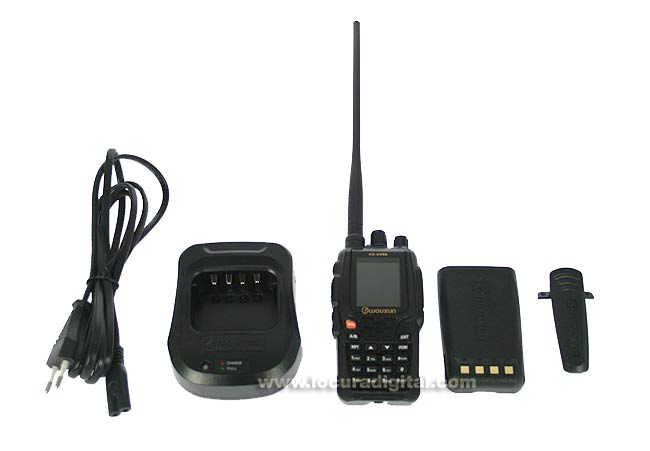 The Wouxun KG-UV8D incorporates the functions already known in his predecessors and have achieved these occupy an important niche in the European market.
CTCSS / DCS
Use the undertones for more privacy in your conversations
DTMF and Scan subtonos
Definitely one of the characteristics that differentiate the KG-UV8D the rest, is the DTMF (touch-pad) and scanner subtonos
.
Programmable via PC
If you are someone who program several channels on your walkie talkie or who prefer not complicated and have the simplicity of channel programming team in record time, we ensure that it is possibility of Wouxun KG-UV8D will not disappoint.
Programming by PC allows you to reduce the memory storage time significantly and allow you to manage options for your walkie talkie simpler way.
La programación mediante PC te permite reducir el tiempo de memorización de memorias de forma notable y te permitirá gestionar las opciones de tu walkie talkie de manera mucho más sencilla.
999 alphanumeric memories 999 Memorias ALFANUMERICAS
The 999 memory channels Wouxun KG-UV8D allow you to save as many undertone frequencies along with the name you want to display on your walkie talkie do not get the'll finish
!
Radio FM Radio FM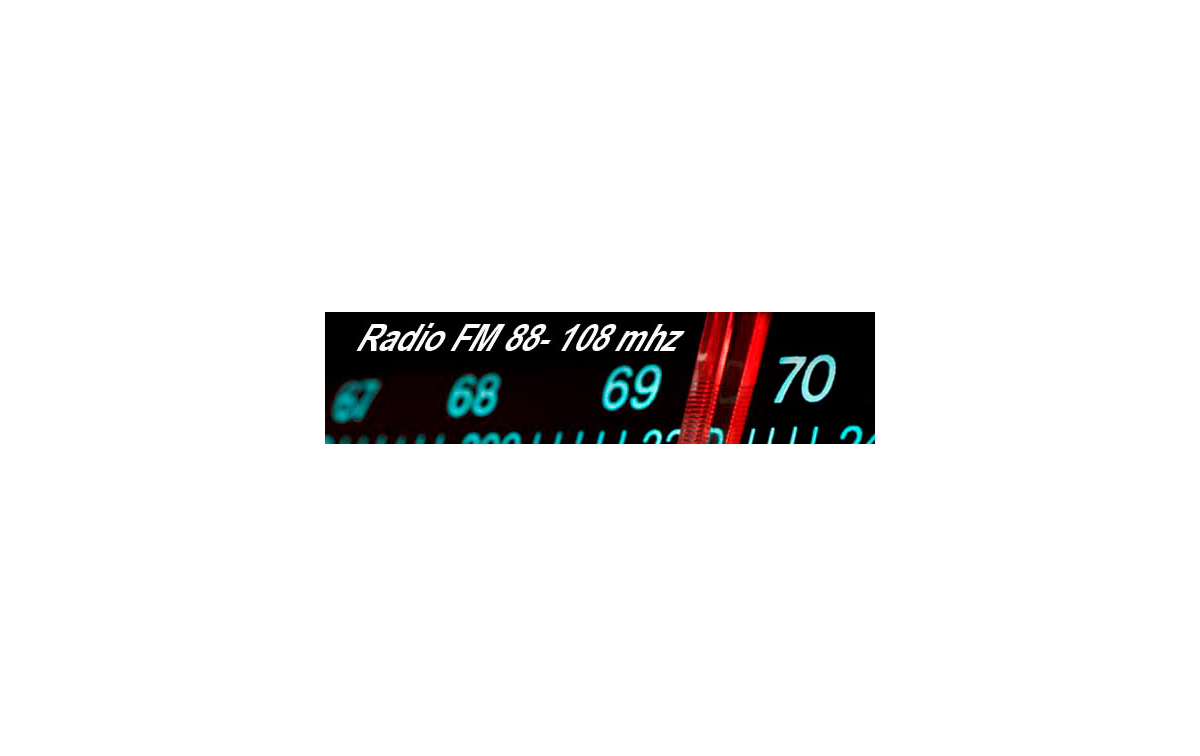 The new Wouxun KG-UV8D also incorporates 88-108MHz FM receiver so you can listen to your favorite radio station. Within the use of radio we would stress that if while listening to FM Radio receive a call, the walkie automatically switch to FM Radio walkie talkie mode to mode.
El nuevo Wouxun KG-UV8D además incorpora receptor FM 88-108Mhz para que puedas escuchar tu emisora de radio favorita. Dentro del uso de la radio nos gustaría destacar que si mientras estas escuchando la Radio FM recibes una llamada, el walkie automáticamente pasará de modo Radio FM a modo walkie talkie.
Version 1.05 Versión 1.05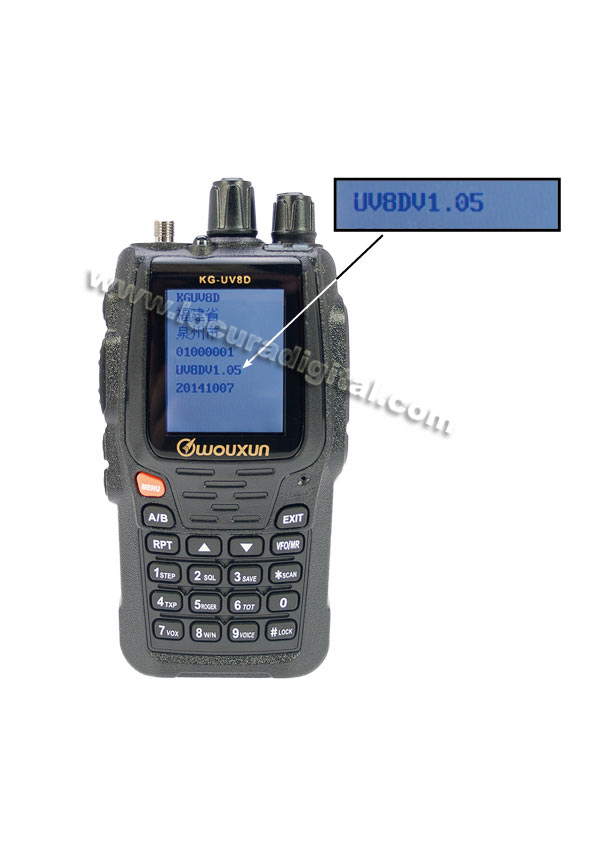 Our teams have the latest stable firmware available that fixes bugs present in previous versions Nuestros equipos disponen de la última versión de firmware estable disponible que soluciona errores presentes en las versiones anteriores.

You can check the version of your KG-UV8D as follows:.
Puedes comprobar la versión de tu KG-UV8D de la siguiente forma:
1. Turn off your walkie talkie
2. With the walkie talkie off press key 3
3. Turn on the walkie talkie
4. On the screen you will see the version of your Wouxun KG-UV8D
4. En la pantalla observarás la versión de tu Wouxun KG-UV8D